Finally some more Flash love on the collectibles end of things. This month we have three Flash pieces being released through DC Direct. Unfortunately two of them are basically just repaints and the other is an expensive statue of Barry Allen.
The first one, available today, is from the third series of JLA Classified Classics, Zoom (The Flash's chief nemesis).  I was inclined to think that this was Hunter "Sheisajeweltoyoouuuuu." Zolomon rather than Eobard "As long as I kill Iris, everything will be alright." Thawne due to the way the eyes were colored and because they simply named him "Zoom". But then I noticed the direction of his belt. Not a real issue or anything as Hunter has been out of the picture for some time now. Still makes me lament Johns-Era Wally though.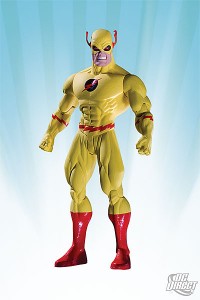 JLA CLASSIFIED: CLASSIC SERIES 3: ZOOM Action Figure

"The JLA CLASSIFIED: CLASSIC line expands with four all-new figures! Consistent in style and scale to Series 1 and 2, Series 3 features some of the most requested characters

from DC Comics.

The Zoom figure stands at 6.75″ high, features multiple points of articulation and includes a display base.

4-color clamshell blister card packaging."
Unfortunately I am not a huge fan of the style of these figures. I know that they are part of a artist-specific collection using Ed McGuinness' art style as a template but I'm just not a fan of the overly muscled character designs and action figures. Especially on my Speedsters. I guess I already own the JLA Classified Flash so it would be cool to have Zoom to go along with him, but I won't be rushing out to get it or anything.
Later on in the month we have the release of a Flash Two-Pack featuring repaints of Jay Garrick from DC First Appearances Series 1 and Wally West from Justice League of America Series 3 repainted to be Barry Allen:
DC ORIGINS: SERIES 2: THE FLASH ACTION FIGURE TWO-PACKS

Trace the history of some of the most popular DC Comics heroes with these special two-pack action figure sets!

Each set includes two full-sized figures packaged together – one based on art from the character's early appearances and the other based on art from the modern era.

One two-sided collectible trading card featuring each character will also be included in each package.

The Flash figures feature multiple points of articulation and include display bases and character-specific accessories. The Modern and the Classic figures stand at 6.75″ high and 6.5″ high, respectively.

4-color clamshell blister card packaging.
These guys will be available the 17th, but frankly I am unimpressed with this offering. To be fair the Wally figure actually looks better when repainted to look like Barry and the paint jobs look to be really slick. But really two repaints? Not to mention Zoom might as well be a repaint too.
The only truly original offering this month will be on the 24th with the release of a Barry Allen statue that looks pretty slick but as I mentioned previously I have zero interest in it:
DC CHRONICLES: THE FLASH Statue

SCULPTED BY TIM BRUCKNER

The Fastest Man Alive kicks up a dust cloud as he slides into the DC Chronicles statue series!

This statue features The Flash of the Silver Age, Barry Allen, in his classic costume.

The DC Chronicles statue line has a consistent base, and the retro-style logo on the base further gives the piece a sense of the period from which it originated.

This limited-edition, hand-painted, cold-cast porcelain statue measures approximately 6.75″ high x 5″ wide x 3.5″ deep and is packaged in a 4-color box with a 4-color Certificate
of Authenticity.

Manufactured to order.
This baby retails at $99.99 and looks to be an outstanding piece. But if I were to purchase any Barry statue it would definitely be this: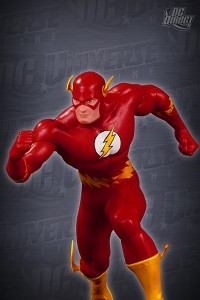 Now that is what I call a statue!
Anyone plan on picking up Zoom, the 2-Pack, the statue, or all three?
Look forward to hearing from you all and thanks for reading.