The WB has uploaded a Young Justice Cartoon Preview from the San Diego Comic-Con. In it we get a look at the designs of the team members, including Kid Flash and some insights on what the show will be focusing on.
I'm liking Kid Flash's look a little more. It looks a lot better in motion than it does static: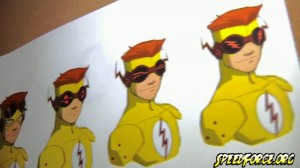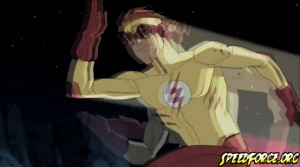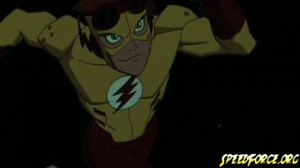 We also get a glimpse at his secret identity which looks to me like a younger version of Wally.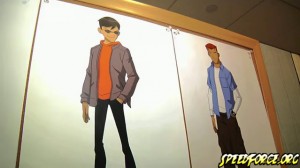 The producers, Greg Weisman and Brandon Vietti mentioned that the show was a DC Universe show. Meaning that it was going to showcase all kinds of characters from the DC Universe including the Young Justice mentors in the Justice League. They also seem to be going for a slightly older audience for the show. The characters are teenagers and are going to be dealing with things like relationships, friendships, hormones, and quite possibly death.
It also looks like the Justice League is going to play a much larger role in this show than I think anyone anticipated. The League is sporting a larger roster than usual with 16 members, and some of the designs look like they were completely lifted from the recent DC Universe Animated Movie, Justice League: Crisis On Two Earths.
In fact the designs for Flash look exactly like the ones from JL: CO2E: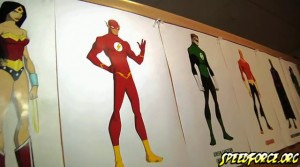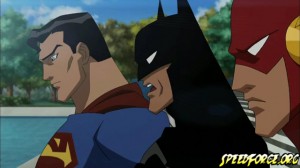 So if the civilian design for Kid Flash looks like a young Wally West but the Flash in the league looks like an adult Wally, which one (if any) is Wally and which one is another Flash (Barry or Bart respectively)?
A Few Clues:
They said that Robin had been doing the hero thing the longest at four years which makes sense when compared to the comic continuity. Tim Drake was active way before Connor Kent or Bart Allen.
We also saw pictures of Roy Harper as Speedy and pictures of him later as Red Arrow.
Going by this information I'm inclined to think that the Flash in the League is Wally. But from a marketing standpoint and with DC trying to push Barry Allen as the primary Scarlet Speedster I don't see much logic in them using Wally instead of Barry. That is unless they are deliberately trying to educate the uninitiated about the differences between the various different Flashes, which would be pretty cool.
Definitely can't wait to see more news as it comes down the pipeline about this series. Especially the action figure and merchandising prospects. What do you guys think about the designs so far?
Special Thanks to Live Pa for the heads up.
*****UPDATE*****
Titan's Tower has a Panel Report that reveals a lot of information including the secret identities of the team. You can find it HERE. Thanks Bill for the heads up. Great report!
» Full index of Comic-Con coverage
Share