Alright finally another installment of "Recent Acquisitions".  I haven't posted an update since March, and I've actually acquired a lot more than what I'm about to show. But as I explained last time the feature is called "Recent Acquisitions" and I personally think "within the last month or so" when I think "recent". Still not a bad haul to show off. First the group picture: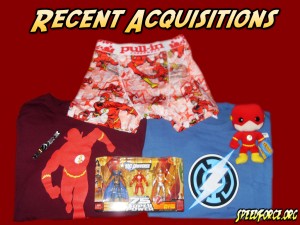 Clockwise from the Top: Pull-In Brand Flash Boxer Briefs, Blue Lantern Flash T-Shirt, Funko Flash Plush Doll, Infinite Heroes 3-Pack feat. Wally West, The Trickster and Heatwave, Flash Silhouette T-Shirt, and Sterling Silver Flash Bracelet
More after the jump.
Now the individual items. I'm also throwing in a few bonus items along the way that aren't in the picture above. A little something to make up for what little I've shown of my collection. First up:
Pull-In Brand French-Imported Flash Boxers $34.99: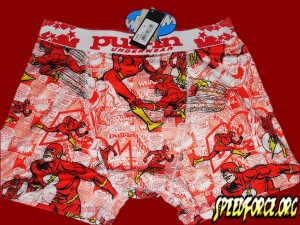 Paraphrased from Superherostuff.com:
What makes these undergarments top of the line?  Firstly, they aren't made in China; the materials and trim are sourced from 6 European vendors to guarantee the highest quality material!  The designs are the result of sublimation printing, not screen printing, which means the colors are actually placed within the fabric and resistant to UV rays, chlorine, salt and anything (within reason) you want to throw at them. And the strap for the waistband comes from the same factory that creates waistbands for the Motocross and Snowboard industry.  Yep, these Boxer Briefs are the freakin' cat's pajamas!
I really could not have said that any better myself. And yes, very pricey. I must say though that they are the most comfortable pair of underwear that I own and they better be for that price.
Graphitti Designs Blue Lantern Flash T-Shirt $18.99: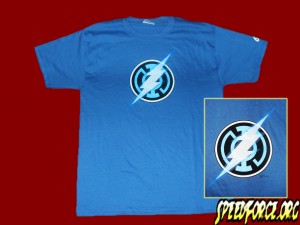 We knew it was coming: The Blue Lantern Flash T-Shirt. I think the graphics look fantastic and I wish I could wear it. Unfortunately I have no blue kicks. I do have a blue hat though (Bonus):
New Era/DC Originals Blue Flash Cap: $32.99 regular price (I paid $12 for it on clearance a long time ago):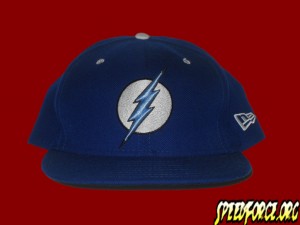 Funny that this hat has been in the same boat as that blue shirt for a couple years now.  I really need to get some blue kicks.
Funko Flash Plush Toy $8.99: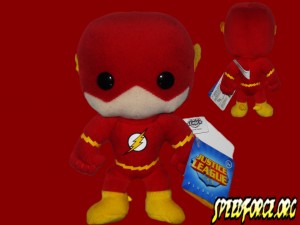 Cute little guy. I jumped at the chance to get him at Toys R Us as he was a dollar less than Sideshow or anyone else was offering for it and it also qualified somehow for free shipping. Double win! They still have more left in case anyone wants to pick one up. Just click on the Toys R Us link.
DC Universe Infinite Heroes 3-Pack Feat. The Flash III, The Trickster I, and Heatwave $25.99: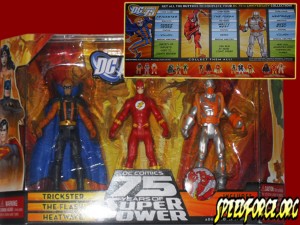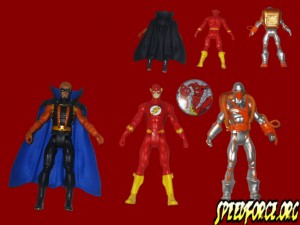 Really impressed with these guys, well at least as compared to the older figures. These figures feature all new articulation but are still sporting t-crotches, unfortunately absent of the new articulation we first saw with the SDCC Starro The Conqueror special edition Flash and Aquaman). Heatwave and The Trickster both have some swanky new sculpts though, and the attention to detail really shows, all the way down to Heatwave's backpack with his hand mounted flame-thrower/flame-retardant spray (could be either or both depending on the story). I also liked that they are designing unique capes for these guys. The one on Trickster is totally different than the one on Psycho-Pirate.
Unfortunately the figures get another mark against them because they don't feature any weapons. The Flash isn't a character that needs accessories but his Rogues, for the most part, rely on some kind of gimmick or device. I keep trying to ignore that Weather Wizard is missing his Wand, Mirror Master's Pistols are glued to his belt with no additional unglued accessories included, and Captain Boomerang Jr. is boomerang-less. Now Trickster is arguable I guess because his main thing was his Airwalker Boots which have the outward appearance of just boots. But would it have been a crazy thing to include a rubber chicken, or a bomb, or something? Heatwave however has no excuse. His only real offense is his heat gun. Please if anyone from Mattel is reading this don't let Captain Cold be shipped without his cold gun. It just wouldn't be right. He would be utterly defenseless as a toy. Also I think it would be a good idea to release a weapons pack or something for sell on Matty to cover the previously released and then start making accessories.
*Ahem* Sorry for that mini-rant. Moving on…
Flash Silhouette T-Shirt $18.99: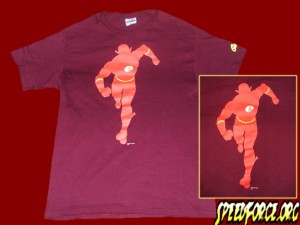 Great design on this shirt.
Sterling Silver Flash Bracelet $49.99: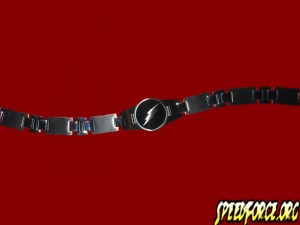 Sterling Silver Bracelet ordered from Superhero Stuff. Haven't really gotten a chance to wear it yet. I still need to get the links adjusted.
And just for reading this far I'm gonna give you guys more bonus pictures.
I ordered the Speedster Geek Merit Badge Patches (both the heat seal and sticker backing) from Fanboy Scouts and I have to say I'm mighty impressed with what I got and how fast I got it. They definitely earned their badges. By the way I'm just showing one patch because they are  the exact same thing except that the sticker badge has a white sticker patch on the back:
Speedster Geek Merit Badge $14.00 (2 for $5 each and $4 shipping):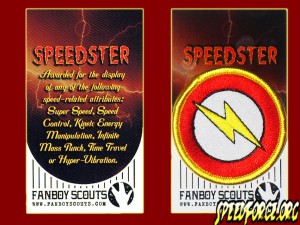 The next bonus (Yes, you guys get three bonuses. ROCK ON!) is a custom t-shirt that I had commissioned by Norman Antonio of Heroes-In-Tights about a year or so ago. At the time I was having a Dark Flash costume worked on (one of three costumes in my possession) and with it I also had a matching T-shirt made. I rocked the tee out of the house a few times and it's gotten thumbs ups and compliments. I have to say it's pretty striking (pun intended :D) visually:
Custom Dark Flash T-Shirt $25 (I think, it was a while ago):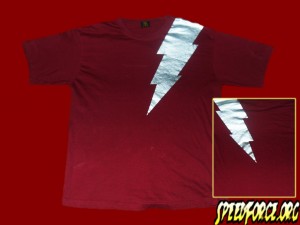 The lightning bolt goes from the back to the front as you can see in the pictures. Like I said Norman also made me a matching Dark Flash costume that you can view on his website. He does really good work and I highly recommend him.
I guess that's a wrap folks.
As always thank you for reading, and I hope you enjoyed the feature.
Share