It's been three weeks since Comic-Con International, but costume photos are always in season. Here are some of the people who came to the con dressed as the Flash. I've posted a few of these before, but not all of them. Some of the photos are mine, but most of them are from other photographers on Flickr. In each case, clicking on the photo will open the original page with larger images.
Authentic Custom Costumes
These are the costumes that were clearly home– or professionally-made, but that stuck to the standard designs.
First up is Mike Rollerson's photo of a really impressive female Flash. I've seen her in a number of other costumes at various conventions, including Catwoman and Psylocke. Keep reading – there's another picture of her later on.
The Superman/Wonder Woman/Flash trio on the right made a huge impression, judging by the number of photographers who snapped pictures of them at the con. The Flash is a very exact copy of the costume from the game Mortal Kombat vs. DC Universe, down to the boots and the armbands, though he's thrown back the hood and put on sunglasses instead. I've seen at least one picture of the group where he's tossed on a red sweatshirt over the costume that looks like Bart's from Smallville.
This group includes a more traditional Flash. As with many large groups, I'm not sure how many knew each other and how many were just invited to join in for having a costume with the same theme.
Off the Shelf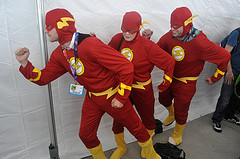 This group managed to take an off-the-shelf costume or three and add a layer of geekiness by not just dressing as the Flash, but dressing as the cast of The Big Bang Theory dressing as the Flash. A little background: In one episode, they all show up to a costume party in the same outfit, and decide to follow each other around as each others' after-images. (Photo by Mark H. Anbinder)
I liked this take on the classic Flash/Green Lantern duo, as well as the choice of location for the photo. IIRC, the power battery was at the Mattel booth. (Photos by William Lee and San Diego Shooter.)
Variations
Mike Rollerson and merhawk provided photos of this "Lounge Lizard Flash." I think he was in the DC Nation Friday panel – I vaguely remember Dan Didio saying something about "the Las Vegas version" when someone I couldn't see stepped up to the Q&A mike, though it could have been something I read in someone's transcript of another panel.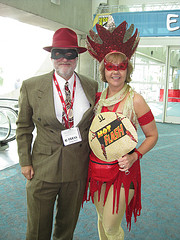 There's a bit of a story behind "Hot Flash." Last year, the day that I went dressed as Jay Garrick, she had me pose for a photo with her. Afterward, she was inspired to put her own costume together, and her husband contacted me through Flickr to see if I was coming in costume again, so we could set up a follow-up picture. I wasn't, but we planned to meet up at some point on Saturday so that I could see the costume.
Thursday evening, staff directed me to one of two chairs left in an otherwise standing-room-only room. Guess who was right in front of me?
Having Fun
Even the Flash slows down to have fun once in a while. Docking Bay 93 brings us back to the first Flash as she advises viewers to please, drink responsibly, while ThinkGeekMonkeys presents a Flash getting down on the dance floor.
Other Speedsters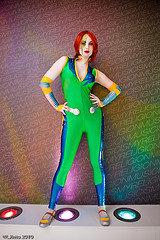 Finally, we have another speedster, Velocity from Cyberforce. Cosplayer Meagan VanBurkleo has a write-up with more photos, in which she talks about catching the Rom Marz / Kenneth Rocafort signing at the Top Cow booth…and running into Marc and Bridget Silvestri while still in costume. (Photo by LJinto.)
» Flash Costumes at Comic-Con 2009
» Full index of Comic-Con 2010 coverage
Share