We conclude our series reacting to DC Comics' relaunch announcements. After covering the Justice League, Green Lantern, Batman, Dark, Teen and Edge series, we look at DC's flagship: Superman.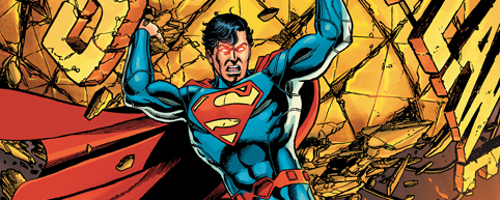 Action Comics · Superman · Supergirl · Superboy
Action Comics
Kelson: I've only ever sporadically read Superman: an issue here, a story arc there. In fact, over the past decade I can only recall picking up four Superman stories: The single issue contrasting Superman with the Authority by way of The Elite, the three-part battle between Kal-El and Kal-L during Infinite Crisis, JMS' Superman: Earth One…and Grant Morrison's All-Star Superman. If Morrison's run on Action Comics is anything like that in terms of the sense that anything can happen…well, I might actually be buying an ongoing Superman book for the first time in my life.
For the record: I don't think we've seen the final design of Superman's new costume yet. But I think it's good to finally move past the underwear-on-the-outside look. It made sense in 1938, in the context of circus strongman outfits, but now it's an artifact of a bygone era, just like Clark Kent's hat or the giant collar on Nightwing's original costume.
Greg: I can't say much about Grant Morrison on Action Comics that hasn't been said about All-Star, or in the recent speculation that he would be handling the Man of Steel. Grant Morrison comic books work on levels that few others do, if any. His Batman saga has simultaneously taken the character to new extremes while reinforcing the foundation, a herculean task considering the visibility of the Caped Crusader. Morrison on a regular Superman title, especially one looking at a different era than we're used to, is the most exciting announcement to come out of the reboot so far. If you're going to re-start Action Comics at #1, this is the only reasonable way to do it.
Lia: I'm not a Superman reader, but it's tough to argue with the creative team of Grant Morrison and Rags Morales (although Morales' characters often have very similar-looking faces, a habit I wish he'd break). This should be a good book, although it's not enough to get me to buy it.
Devin: I like Superman as an ideal and as a character in the Justice League. I even loved Lois & Clark and parts of Smallville but I have never been able to get into Superman as a series. These character designs aren't going to change anything when it comes to that. This new costume looks hideous. In fact every member of the Superman family has a costume worst than the last. I can get over a lot of things but a poorly designed costume I can't. So many better options too. And what is with that belt? With Grant Morrison attached I was thinking about giving it a chance but the costume ruined that.
Superman
Greg: When I heard rumors that the master, George Perez, would be working on Superman, I was unsure of his ability to produce timely artwork for a monthly book. His working on covers, scripts AND layouts, however, is just as exciting and should prove to be massively entertaining based on his previous work with the character. The cover shown in the announcement is classic Perez, and based on his work in Flashpoint: Secret Seven, I bet we're in for some fantastic stuff.
Lia: As with Action Comics, having George Perez on board here is quite a coup. That costume design is odd, though — since when does Superman need armour? And of course, the "startling new status quo" comment in the solicitation is a bit worrisome. I know why they need to change aspects of his life/history, but it's still depressing that they're doing it.
Supergirl
Lia: I know nothing about any members of the creative team, but the hint at Supergirl as a superpowered anti-hero is interesting.
Kelson: Interesting point that, not having grown up on Earth, Kara would have a less rosy view of humans.
Superboy
Devin: I really hope they bring back Kon's tactile telekinesis and more unique aspects of his powers. Being a Superman clone doesn't mean that he literally has to be a clone of him.
Lia: Wow, another Scott Lobdell title. Hopefully they aren't rebooting Superboy and planning to retell his stories all over again, because that's what the solicitation and cover suggest to me.
And that's a wrap!
Part 1: Justice League
Part 2: Green Lanterns
Part 3: Batman
Part 4: Dark
Part 5: Teen
Part 6: Edge
Share