The results are in! Here are readers' favorite Flash stories from 2011, as voted on at twtpoll: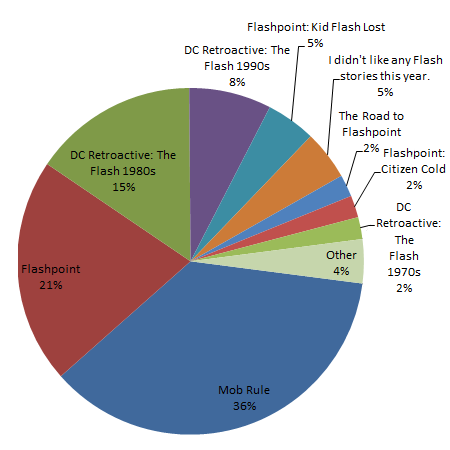 Francis Manapul and Brian Buccellato's current New 52 storyline, "Mob Rule," is the clear winner, with Flashpoint taking a solid second-place spot and the DC Retroactive: The Flash 1980s special a respectable third. the 1990s Retroactive book and Flashpoint: Kid Flash Lost round out the top 5, with the rest of the stories — including the second half of the Geoff Johns' run on the regular series — barely represented at all.
Full results after the jump.
Story
Votes
Mob Rule*
71
36%
Flashpoint
41
21%
DC Retroactive: The Flash 1980s
30
15%
DC Retroactive: The Flash 1990s
15
8%
Flashpoint: Kid Flash Lost
9
5%
I didn't like any Flash stories this year.
9
5%
The Road to Flashpoint
4
2%
Flashpoint: Citizen Cold
4
2%
DC Retroactive: The Flash 1970s
4
2%
Other (write-in)*

Young Justice issue 0
That one Wally West Story – oh wait, that never happened.
the return of wally west

3
2%
Superman #709 (race with the Flash)
2
1%
All-New Batman: The Brave and the Bold #3 (team-up with Flash)
1
<1%
Superboy #5 (race with Kid Flash)
1
<1%
Tiny Titans #41: The All-Flash Issue
1
<1%
Total
195
*Note: I moved one of the "Other" votes to "Mob Rule" since the reader entered "New 52 Flash"
Share