Hey Speed Readers,
Unless you've been living underground for the last six months or so you have to be aware that SDCC 2012 officially began today and while there isn't a ton of Flashy news on the collectibles front, one awesome thing stands out!
Wally West will finally be released as a Mattel Action Figure: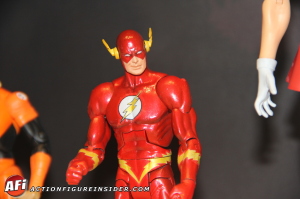 Picture via Actionfigureinsider.com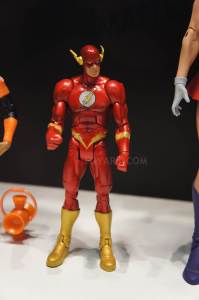 Picture via Toyark.com (Thanks for the heads up, Kyer)
 Yep, that is the Wally West that we know and love. From the eye lenses, bold crimson coat and gold accents it looks like we are getting something more akin to the excellent, Greg LaRocque designed suit from Flash v2 #50 as opposed to Ethan Van Sciver's updated design from Flash: Rebirth. Thank you, thank you, thank you. The only annoying thing about this is it took about six Barry Allen variants before they gave us Wally West and in fact another will be released before we see Wally West. But I'm not going to complain; We finally have what even DC Direct couldn't give us all these years (even with the excellent JLA Series 1 Flash). I'm grateful.  The one downside is that the figure will be a part of Mattel's 2013 DC Club Infinite Earths Subscription and is scheduled for release May of next year (so far away).
I can't say for certain if this will factor into whether or not I buy into the DC Club Infinite Earths Subscription.  It was quite surprisingly easy for me (even using my mobile phone) for me to get in on Sale day, buy Jay Garrick and be done with it. Yeah it was a little pricier than if I had bought into the sub but since I don't want 90% of the figures featured in the sub this works out better for me.
The kicker of course is that the scale from last year is back. The scale was Mattel's way of gauging public interest before going ahead with the sub last year. I'm not sure exactly how many it took last year but they did decide to finally go ahead with it. On top of that the gauge will feature a second part to it this time around. The first level will determine whether the sub will go forward or not as planned and the second will determine whether fans can expect a new fully-tooled (meaning all brand new parts) figure in 2014. Some advantages to subscribing this time around will be early access to all Mattycollector.com releases and of course the guarantee of receiving all of the items in the sub.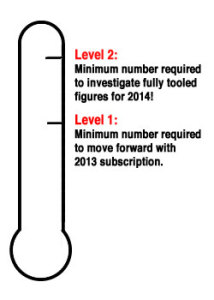 So with the announcement of Wally West does anyone plan on buying into the sub this time around? Who else can't wait until May 2013 and will be buying more than two? Let us know in the comments below!
Share