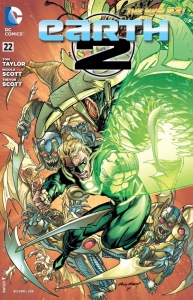 This issue of EARTH 2 has a theme of resurrection – in more ways that one.  A hero returns, another learns his way, and the "resurrected hope" may have the key to any chance our Wonders have of survival!
LIGHT SPOILERS ONLY
The returning hero is revealed in the first pages…Alan Scott is once again saved (or this time, resurrected) by the green flame. His teammates are unaware of this so far, as events elsewhere are ready to unfold quickly.  Young Jimmy Olsen of Earth 2 (only 13 years old on this Earth) is starting to figure out some of the meanings of Doctor Fates ramblings…including the identity of the person identied as the "resurrected hope"…and no, it isn't Alan Scott.  As the Kryptonian starts to gain power, the group is attacked – and that sets up the twist at the end that may finally turn this battle around…but for that we'll have to wait until next issue.
Tom Taylor is an excellent storyteller, and this issue is no exception.  There are a number of events going on simultaneously, but it doesn't look forced – everything is blending well into the main plot.  The art as always is outstanding – I love Nicola Scott's pencils, Trevor Scott's inks and Pete Pantazis' color work.  Jay Garrick fans will need to wait just a bit longer to see him in this story…but fans of these Wonders should be happy with another great issue of EARTH 2.