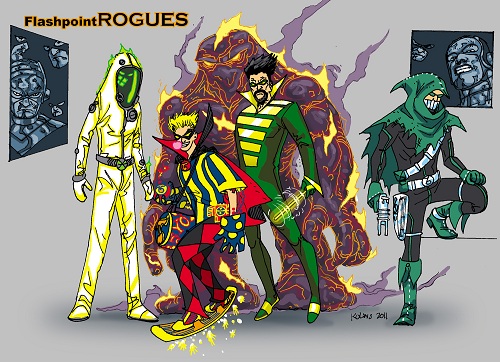 DC has been posting questions and answers from the writers of the various Flashpoint tie-ins today, including this piece of art depicting Mirror Master, Fallout(?), Tar Pit, Trickster (Axel Walker), Weather Wizard, and Pied Piper.
It seems appropriate that someone would have a goatee.
Kolins says of his miniseries:
There's bunch of stuff in my CITIZEN COLD 3-parter that's has never been done for [Captain] Cold or the Rogues. Can you imagine Cold being the hero of Central City? What kind of hero would he be? Plus there's the whole Iris angle – that's new and soooo much fun.
Click through to the article for more Q&A and a larger image. And don't miss the first article in the series, either. Update: Part three is up. They've got quite a bit of unfinished art and logo designs on the these articles.