The comic strip Foxtrot takes aim at Apple. Could the iPad be the future of comics? Or is something missing?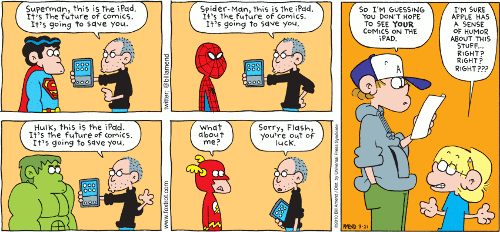 Click to view full-size at Foxtrot.com.
(via Gizmodo.)
Some weekend linkblogging…
Interviews
CBR is readying a new installment of its Geoff Johns Prime Q&A column. If you have a question for the Flash: Rebirth and Blackest Night writer, you can submit it through Monday at 5:00 PM PST.
CHIU-stream is holding a contest for original art by Francis Manapul, and will be interviewing the upcoming Flash artist on December 10.
Art Finds
Crimson Lightning is back from its Nanowrimo-imposed hiatus with a Foxtrot Flash Find.
Ulises Farinas draws a LEGO Blackest Night (via Robot6). Brickest night?
Augustine at Comic Bloc found a probable Flash reference in Ultimate Spider-Man.
Commentary
Also at Comic Bloc, a discussion on the origin of Wednesday as new comics day.
I haven't decided yet whether to put together a list of Blackest Night: The Flash #1 reviews. If I do, it'll probably just be major sites and those that I follow, plus anything I stumble across. Searching does take time, even with Google Alerts.