You ever have moments where you are on the internet randomly searching for Kid Flash costume variations and you stumble upon something really cool yet completely unexpected? This happened to me a few weeks ago when I came across some great stuff I'm not sure many fans of the Scarlet Speedster have seen yet.
Remember that Flash video game that was cancelled a few months ago? The Flash video game that was was covered by Kelson back in September and October of last year? Well I mentioned I was randomly interested in Kid Flash costume variations and I stumbled upon a nifty one in google images that rocked my socks off: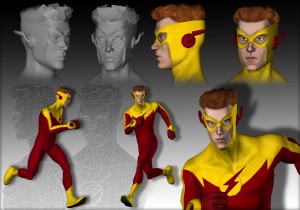 Taking a closer look around the site I found a few more: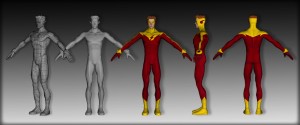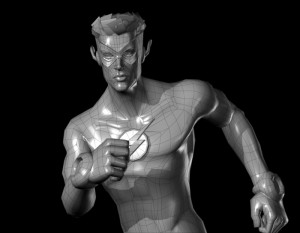 And a nice Pied Piper: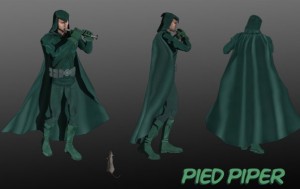 Turns out these were modeled by Helen Rusinoff for the cancelled Flash video game. The costumes were designed by Roger Robinson who was featured in the previous Flash video game article Kelson posted. There were a few pictures that I didn't have room to show but you can find those at her website.
I emailed Helen about showcasing the pictures on Speedforce.org and she emailed me back promptly. Not only did she give me permission to repost her work, but she also pointed me in the direction of Roger Robinson yet again. I visited his website and didn't really find anything new to report. Wandering around that site however I came across another blog, where I found these pictures: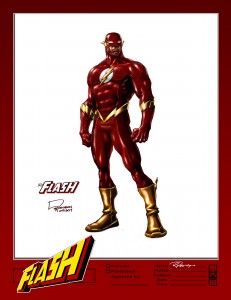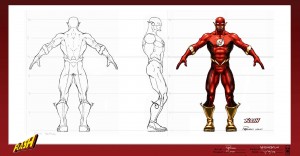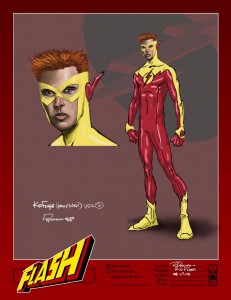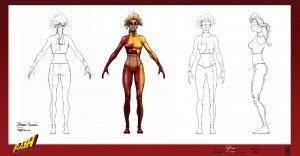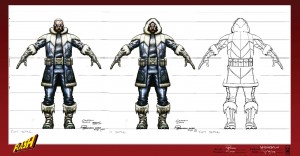 You can find a few more at Roger Robinson's other website.
Seeing that we could have had Kid Flash, and Jesse Quick in this game makes me downright depressed. I wonder if there were any cool multi-player modes that they might have had planned using the various members of The Flash Family? The Flash meets Sonic Adventure 2 Battle? That wouldn't have been a bad thing. I also wonder if they had any plans to have alternate costumes. That was a very nice touch in Justice League Heroes, which included Jay Garrick and Walter West as alternate uniforms for Wally. Too bad the game was so dang mediocre.
Until they find a way to either bring this back from the dead or create another one I guess I'm stuck playing this: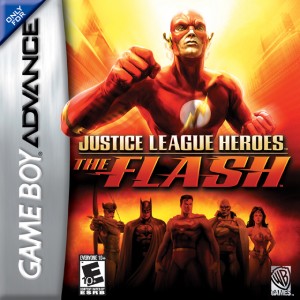 Actually Justice League Heroes: The Flash isn't bad. I preordered it when it was first announced and purchased a Gameboy Advance SP just to play it. I now have it on my PSP as well and have beaten it many, many times. A lot of fun to play on the go(although I take Bart's advice and don't use my "playtendo" while running).
I hope you all enjoyed a deeper glimpse into the game that could have been. The potential was definitely there for a good, solid, fun game to play. Here is hoping they decide to create another one sometime down the road.