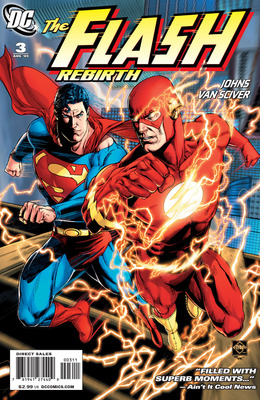 Well, the good news is that this issue does read better the second time through. I've re-read Flash: Rebirth #1 and #2, then read #3 again. Oddly enough, I liked the first two issues better the first time through than the second, and like this one better the second time through than the first read.
The bad news is that the cliffhanger still leaves me cold.
Now it could just be relaunch fatigue. The excitement of "Geoff Johns is back! With Ethan Van Sciver!" has worn off by now, and in a sense the actual relaunch isn't going to be for another four months or more. Flash: Rebirth isn't so much a new direction as it is the process of changing course. It's not the new house, it's the act of remodeling. And you know, it would be nice to actually move into that house instead of watch the contractors working on it.
But the main purpose of Flash: Rebirth is to convince people that the new direction is worth their time. People are asking, "Why should I get involved with a series that DC has relaunched 3 times in the last 3 years? Why should I let myself get attached to this new direction when they change it every 6 months? Why should I let myself get attached to the main character when they replace him every year?" By going back to Barry Allen, the one character whose resurrection was not an option for more than 20 years, they're making a commitment: "This time, we really mean it!" In theory, that should clear away the baggage the Flash has accumulated over the last 3 years and leave it on the same level as any other comics launch.
Which still leaves hooking the readers on the Flash, and hooking them on Barry Allen.
I don't think I can really go into the rest of the issue without spoilers, so… you've been warned! Continue reading →