BOOM! Studios has launched MarkWaid.com, at which BOOM! Editor-in-Chief and long-time Flash writer Mark Waid has started his own blog. (via Newsarama) Meanwhile, CBR writes up his new Incredibles! comic. Update: Also, a new Potter's Field one-shot, "Stone Cold," is coming in March.
Ethan Van Sciver mentions in his latest Your Time is Now Mine column that he has drawn four covers for Flash: Rebirth #1, though DC is only using two of them for the first issue. "We'll see where they pop up!" he says. My bet: one of them will appear on the inevitable second printing.
Progressive Ruin looks into a forgotten Flash supporting cast member — Mopee — and a surprise find in the old Flash comics letters column: a letter from a fan named Cary Bates!
4thletter! bemoans the fact that Barry Allen's return appears to be linked to another speedster's death.
Comic Coverage looks at an editor's excuse for a then-shocking swear word appearing on the cover of a 1960s Flash comic.
Death in Comics is clearly on the collective mind of the blogosphere, with (again) 4thLetter and Mania weighing in.
Armagideon Time reminds us all to lighten up a bit. It's only a hobby, after all.
And finally, Heroes' Brea Grant posts this fan picture of Daphne, Flash and Quicksilver by Drawing Power: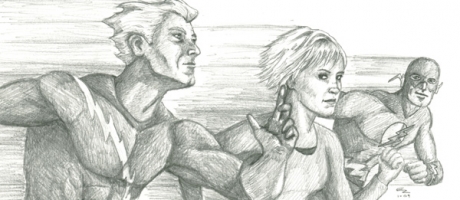 Share