Sadly, I didn't spot any Flash costumes at WonderCon last weekend (though you can see my photos of other stuff at the con)… and I didn't find any online either. I did, however, manage to find some Flashy photos from MegaCon on Flickr.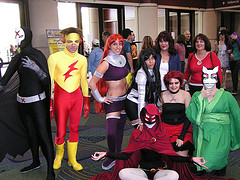 Photos by samaritanx, rossnordean, and apocalyptic.
I found several pictures of the Flash and Starfire in the second picture, making me wonder whether they knew each other or just happened to cross paths frequently. There's one photo of them with Dan Didio and George Perez, suggesting they're the ones who went up onstage at the DC Universe panel.
Share