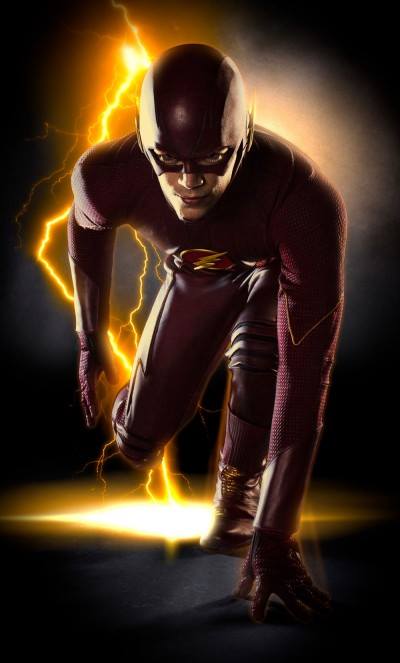 DC has released the first full image of Grant Gustin in the Flash suit. (We got to see a preview of just the mask two weeks ago.)
First thoughts:
Wow!
It does look a little dark, but again that's partly backlighting.
The earpieces are raised ever so slightly. It'll take a bit of getting used to, but I think it works.
While I prefer the white circle around the chest symbol, I think the brighter red on a darker red background works better for the universe established by Arrow.
I wonder what the belt looks like.
The pilot episode is currently filming.
The Flash's costume was designed by three-time Oscar® winner Colleen Atwood, who also designed the costume for Arrow and whose motion picture credits include Academy Awards® for her work on Alice in Wonderland, Memoirs of a Geisha and Chicago, as well as seven additional Oscar® nominations for films such as Snow White and the Huntsman, Sweeney Todd: The Demon Barber of Fleet Street and Sleepy Hollow, among others.
So, Speed Readers…what do you think?
UPDATED Wednesday! More photos from Tuesday's on-location shoot have surfaced, showing the costume in daylight. The Daily Mail has a good round-up (Thanks to Veronicadiall for the link in the comments below).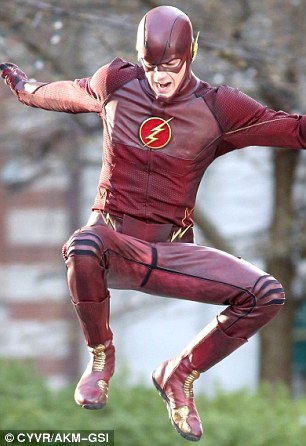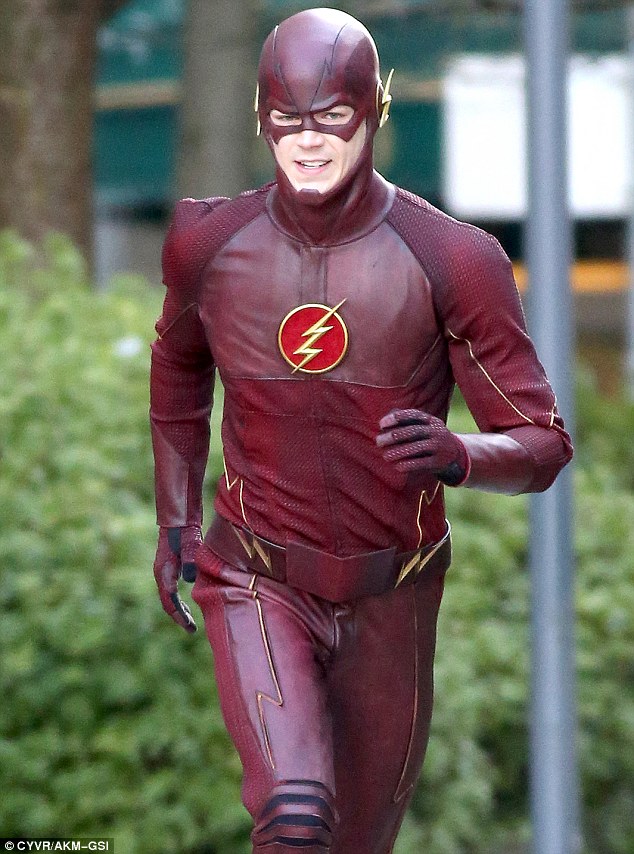 I'll admit to being a bit less enthused, particularly over the lackluster belt design. I don't have a problem with the overall look. My wife suggested it looks a bit like an athletic suit, which makes sense for a runner. The earpieces work best when you can see a three-quarter profile. I agree with Devin "The Flash" Johnson that it's nice that this costume looks like one he can move in. The yellow piping works better in live-action than on the page or in animation (I thought it looked awful at the end of The Flashpoint Paradox).
I find it interesting that I actually like details like texture in a live-action version of the costume, but prefer a hand-drawn version to be sleek and uncluttered.
I'm still warming up to it, but considering that we're looking at…
A daytime location shoot, meaning they have less control over lighting.
Opportunistic shots by bystanders who don't have as much control over camera angles as the on-set cameras do.
Still frames of scenes when the Flash is intended to be seen in motion, or behind-the-scenes moments.
Raw images, with no post-processing or special effects.
…I think the jury's still out.
How about you? What do you think of it now that you've seen more photos of the costume?