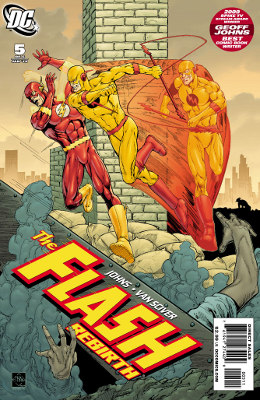 Flash: Rebirth is closing in on its conclusion. Mysteries are revealed, heroes battle villains — well, a villain anyway — and change is in the wind for more than one speedster. The sense of urgency that started building in issue #4 is present in full force here, as Geoff Johns and Ethan Van Sciver build the story to one last cliffhanger before the end.
Let's get one thing out of the way first: Wally West's new costume debuts in this issue. If you've read it already, or don't mind being spoiled — or want to be spoiled — you can read my comments and see a scan in my previous post. The change itself is a little forced, but works well enough — and, interestingly enough, isn't played up at all by the characters themselves.
So: Barry Allen solves his cold case, Jay Garrick demonstrates that super-speed is more than just running, the West Twins reach a turning point, Liberty Belle makes an impression, and Professor Zoom proves himself petty and vindictive as well as vicious.
Purpose
A lot happens in this issue, but I can't help but feel that it ultimately doesn't matter. The plot of Flash: Rebirth is secondary to the book's real purpose:
Rearranging characters to put them in the roles that DC wants for 2010.
Restructuring the Flash mythology.
Along the way, it does a lot of what one of my friends in Star Wars fandom calls "spackling:" patching over rough spots or outright holes in continuity. Last issue we got an explanation of why Barry never learned about the Speed Force in the form of a completely new interpretation of how it works. This issue we get an explanation for why Barry's flashback has his parents in Central City instead of Fallville. We get yet another layer on why Jay and Joan Garrick look 50 instead of 90, and a new explanation for why Jai and Iris/Irey West don't have super-speed. We even get an explanation for "hot Iris."
In that way, Flash: Rebirth is a lot like World War III, which existed solely to explain what had changed between Infinite Crisis and the "One Year Later" books. That this miniseries is the best Flash story since 2005 has less to do with it being a good story than it does with the fact that the comics from 2006 through 2008 were incredibly haphazard.
Well, I've reached the point where I can't say anything more without giving anything away, so if you don't want any spoilers, stop reading now!
SPOILERS AHEAD!
.
.
.
.
.
SPOILERS! RIGHT HERE!
Okay. So….
Cold Case
We now know that Professor Zoom went back in time, killed Nora Allen, and framed her husband for it. Or rather, we now know for sure. Not only that, but he's been jumping through time, messing with Barry throughout his life: pushing him down the stairs, burning down his house, letting his dog out to get hit by a car, and probably drinking the last of the milk when little Barry could really use something to wash down those cookies. Eobard Thawne is a mean, petty, vindictive bastard. But then, he has a history of obsessing over Barry Allen and stalking Iris.
So any discrepancies in the flashbacks, from the blazingly obvious (weren't Barry's parents alive?) to the not so clear (weren't Barry and Iris already dating by the time he got his powers?) can be explained away by Professor Zoom traveling through time.
That doesn't make them any less retcons, though, unless Barry finds a way to *ahem* reverse them all next issue. It just makes them retcons with in-story explanations…just like retcons explained by Crisis on Infinite Earths, Zero Hour, Infinite Crisis, etc.
It also doesn't make them any less cliche. There are plenty of super-heroes out there who have childhood traumas associated with the death of a parent (or both parents). It still seems pointless to tack on that kind of trauma to the Flash.
Changes
Wally's new costume works as a further evolution of the design. Jesse Quick gets the latest in a series of bad costumes, though since she seems to still be wearing the Liberty Belle outfit in upcoming JSA comics, it'll probably be either a one-time or occasional thing. (I've added some commentary on Jesse and Irey's costumes to the new costume post.) Irey as Impulse, visually, works surprisingly well. I'm not sure how well it works as an identity, though.
Remember how I said there was a lot of spackle in this book? The West Twins have been a millstone around the series' neck since they were introduced as characters in their own right for the 2007 relaunch. Personally, I liked them, and thought they opened up new story possibilities, but a major part of the audience wanted them gone. So, something about the dynamic had to change.
What Geoff Johns has gone for appears to be this: depower Jai completely, and upgrade Irey to the standard speedster power set. This cuts down the number of Wally's sidekicks, and having her take on the Impulse identity gives her a connection to Bart, so that she could show up in either Wally's backup stories in The Flash or Bart's stories in Kid Flash. I'm not big on the idea of "Impulse" being a heroic legacy, but they at least sold it as a personal choice with Irey's "I want to be like Bart" comments last issue. It's not so much honoring a legacy as emulating the cool older cousin.
The choice of which sibling to keep empowered is a tricky one. On one hand, you've got a boy and a girl, and women are extremely underrepresented among the Flash characters. On the other hand, Irey looks white and Jai looks Asian, and the lightning brigade is very Caucasian. So either way you're kind of stuck. In this case, though, the choice is made a bit easier by the fact that some version of Iris West II has been shown as a speedster in future stories since Kingdom Come in 1996.
Observations
I can't believe we get more of the bow tie, but it was a nice twist that Iris' first gift to Barry was bought from the tailor who made the Rogues' costumes. Nice easter egg there.
Professor Zoom seems to be taking lessons from Abra Kadabra: eliminate the anchor, and you'll eventually eliminate the speedster.
Issues #1 and #2 read really slowly now, after having read #3–5.
I like the irony that Iris is constantly drinking coffee, but Barry never touches the stuff.
Great shot of Liberty Belle stomping on Professor Zoom's face.
I like seeing Jay use the helmet, rather than just wear it. I could never get into JSA, but I don't recall seeing that very much in the pages of The Flash.
I can no longer think of the phrase "Mother, May I?" without thinking of the Teen Titans animated villain, Mother Mae-Eye.
Overall
The second half of Flash: Rebirth — the half that's been taking longer to come out — has been solid. I just wish we could move on from the setup and get to some story that's actually about a story. Here's hoping Blackest Night: The Flash will be a little more in that vein.
See also:
Share