2010 was a big year for the Flash. After five years of meandering (since DC decided to cancel Wally West's series during Infinite Crisis because, hey, you can't have a Crisis without a dead Flash, but couldn't figure out what to do with the relaunch), it's beginning to look like DC has finally gotten the character back on track.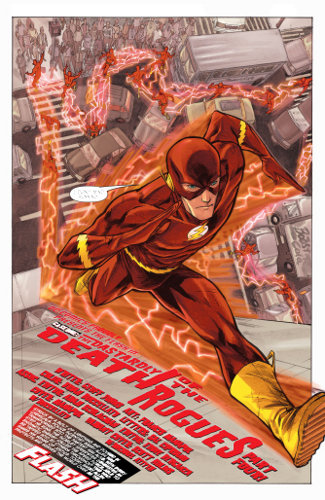 The year opened with the wrap-ups of the Flash: Rebirth and Blackest Night: The Flash miniseries, then ran headlong into the Flash vol.3 relaunch in April by Geoff Johns and Francis Manapul. The new series starring Barry Allen has completed its first story arc, introduced new characters in the form of reverse-Rogues, and presented two Rogue Profile spotlight issues. On the downside, the series has been plagued by delays since summer, and those two Rogue spotlights were added to help get the book back on schedule.
Speedsters Really Get Around
Barry Allen has been all over the place: The Flash, Blackest Night, Brightest Day, Green Lantern… A number of Barry Allen/Flash action figures have also been released or announced this year.
Bart Allen, as Kid Flash, has rejoined the Teen Titans.
Jay Garrick continues to be a mainstay of the Justice Society of America.
On TV, Batman: The Brave and the Bold featured a Flash-focused episode starring Jay Garrick, Barry Allen and Wally West (as Kid Flash)…with John Wesley Shipp voicing Professor Zoom. Cartoon Network's Young Justice launched with Kid Flash as a main character. And of course there's the continuing presence of Flash fandom on The Big Bang Theory.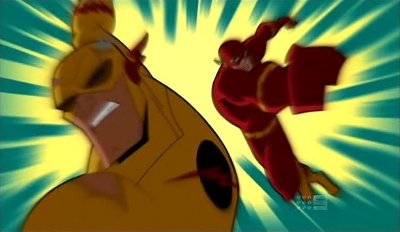 Apple's launch of the iPad, and Steve Jobs' continuing insistence on keeping the Flash animation player off of its mobile devices, has led to a string of jokes riffing on the common name.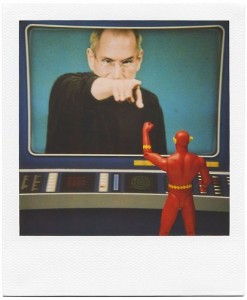 It's been a good year for other speedsters, too. Jesse Quick joined the Justice League, got a cover spot, and was adapted to an anime-inspired statue. Over at Top Cow, Velocity's long-awaited miniseries finally came out (though it's dropped from a monthly schedule to quarterly). Marvel's Spitfire got a one-shot guest-starring Blade. DC relaunched T.H.U.N.D.E.R. Agents and spotlighted Lightning in their second issue, highlighting the cost of super-speed. Robert Kirkman's Invincible spinoff Guarding the Globe introduced a new speedster named Outrun. Marc Guggenheim's Halcyon prominently features a speedster as the only hero to remain active after all crime stops worldwide. Whatever Happened to the World's Fastest Man? won the 2009 Eagle Award for best British Black & White Comic Book. The TV series No Ordinary Family launched on ABC, featuring a speedster (Stephanie Powell, played by Julie Benz) every week.
Wally West, on the other hand, has been all-but invisible. The backup stories planned for The Flash were scrapped, he was dropped from the Justice League, and Titans was relaunched as a villains book. His only post-Blackest Night appearance I can remember is a half-issue guest spot in Magog, and his appearances on TV have all been as Kid Flash, not as Flash.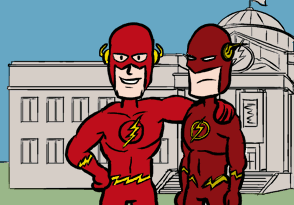 State of the Blog
It's been a good year for Speed Force as well. Early in the year, Devin "The Flash" Johnson joined the team and has been adding a collector's perspective to the site. Devin also ran the site's first-ever contest, to design a Flash ring. We're now averaging about 1,200 visits a day according to WordPress Stats (half that according to Google Analytics. I'm not sure why the difference). I've contributed some guest reviews to Collected Editions and a guest post to Nerdage, and throughout December we've featured a series of guest posts on this site. (More about that in a moment.)
And personally, it's been a big year for me. I attended four comic conventions. I started a new job this fall. (I'd been at my last job for 10 years, but the company is closing down.) Even bigger, my wife and I had our first baby in November. That's a whole new adventure! (My parents bought us T-shirts that say, "I've got parenting down to a science: every day's an experiment.") No, he's not named after a Flash, but we have been abbreviating Jeffrey to "J," which sounds like Jay…
Thank You!
I'd like to extend a big thank you everyone who has contributed guest posts, including those whose articles haven't gone up yet: Brandan, liquidcross, Dave Huang, The Irredeemable Shag, KC Flash, Frank Lee Delano, Ken O, Dave Sun, Adam Komar, Kojo Manu, Greg Elias, Christine Adamo, Perplexio, Eric Ridgeway, and anyone I've left out.
Thanks also to Collected Editions and Nerdage for giving me the opportunity to contribute to their sites.
A huge thank you to Devin "The Flash" Johnson for his many contributions to the site!
Thank you to artists Greg LaRocque and Paul Ryan for giving interviews this month. Thanks to Francis Manapul for chatting about Flash & Beast Legends and doing a great sketch for me at Comic-Con. Thanks to Geoff Johns and Francis Manapul for revitalizing the comics (even though I disagree with some of Johns' methods).
And finally…a humongous thank you to my wife, Katie, for being understanding about my hobby!
Happy New Year, everyone! See you all in 2011!
Share