What were your favorite Flash comic and TV stories of the year? And what's got you excited about next year? Vote in our 4-question poll, then come back here to discuss!
Update: The results are in! 113 people voted in the survey, and there were some pretty clear winners.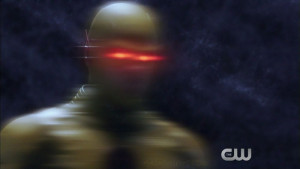 1. What was your favorite Flash TV episode of 2014?
"The Man in the Yellow Suit" won handily with 38% of the vote, followed by "Going Rogue" (Captain Cold) at 25% and "Flash vs. Arrow" at 17%. The Arrow part of the crossover was listed separately, and came in at 7%. No one voted for "Plastique." People like their Reverse Flashes and Rogues. (Screencap from FlashTVNews.)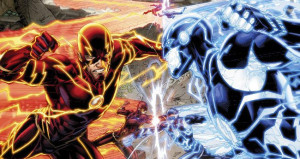 2. What's your favorite Flash comic book story from 2014?
The Future Flash storyline by Jensen/Venditti, Booth & Rapmund took a whopping 46% of the vote, followed by "History Lessons" (Flash #27-29), the Keystone Killer storyline by Buccellato and Zircher, at 19%. I listed the Mashup Gang story that ran in parallel to the Future Flash on its own, and it only came in at 7%, after a near-tie (one vote difference) between Season Zero's story of Mr. Bliss' circus and the updated origin story in Secret Origins #6.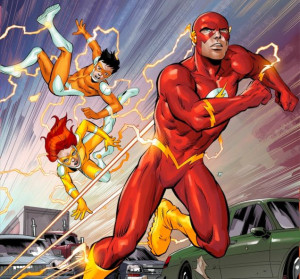 Which Flash comic book story are you most looking forward to in the first half of 2015?
A strong consensus on this one as well: 44% voted for Convergence: Speed Force featuring pre-Flashpoint Wally West and the twins. The next one down was the stranded Barry/Future Flash story playing out in the main book right now, at 19%, then the Convergence: Flash mini featuring a Bronze-Age Barry Allen at 16%. Sad to say, fully 8% of respondents chose "Don't you mean, which story do I dread the least?"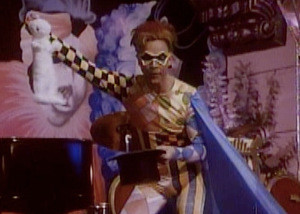 4. Which confirmed guest stars are you most excited about for the second half of Flash: Season 1?
This one's a lot more even: Coming into first place was the Trickster at 27%, followed by the return of the Reverse Flash at 22% and the debut of Heat Wave & Captain Cold at 20%. I wonder how much of the Trickster love is for the character, and how much is for the return of Mark Hamill?
In any case, we here at Speed Force hope you had a good 2014, and wish you a happy new year!