2010 was a big year for the Flash. After five years of meandering (since DC decided to cancel Wally West's series during Infinite Crisis because, hey, you can't have a Crisis without a dead Flash, but couldn't figure out what to do with the relaunch), it's beginning to look like DC has finally gotten the character back on track.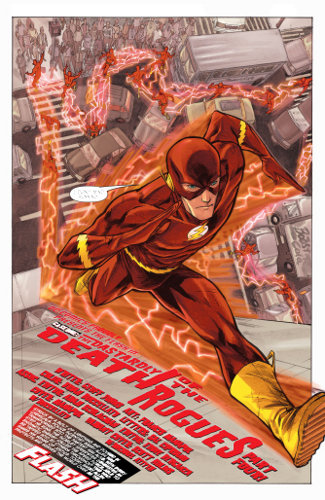 The year opened with the wrap-ups of the Flash: Rebirth and Blackest Night: The Flash miniseries, then ran headlong into the Flash vol.3 relaunch in April by Geoff Johns and Francis Manapul. The new series starring Barry Allen has completed its first story arc, introduced new characters in the form of reverse-Rogues, and presented two Rogue Profile spotlight issues. On the downside, the series has been plagued by delays since summer, and those two Rogue spotlights were added to help get the book back on schedule.
Speedsters Really Get Around
Barry Allen has been all over the place: The Flash, Blackest Night, Brightest Day, Green Lantern… A number of Barry Allen/Flash action figures have also been released or announced this year.
Bart Allen, as Kid Flash, has rejoined the Teen Titans.
Jay Garrick continues to be a mainstay of the Justice Society of America.
On TV, Batman: The Brave and the Bold featured a Flash-focused episode starring Jay Garrick, Barry Allen and Wally West (as Kid Flash)…with John Wesley Shipp voicing Professor Zoom. Cartoon Network's Young Justice launched with Kid Flash as a main character. And of course there's the continuing presence of Flash fandom on The Big Bang Theory.