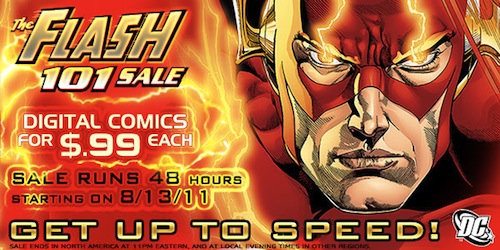 DC Comics has announced a "Flash 101" sale on digital comics. All listed Flash titles will be only 99 cents for 48 hours starting August 13. They don't say where, but I think it's safe to assume it's at ComiXology, because they're DC's exclusive online vendor at this point.
And they've added a lot more issues.
Up to this point, ComiXology has had everything from Flash: Rebirth onward. Over the last few days, readers have spotted early issues from Wally West's series, the beginning of Impulse, and a few scattered issues from the Bronze Age. Check out the full list of titles on sale after the jump: 
FLASH Firsts:
Flash Comics #1 (first appearance of Jay Garrick, The Golden Age Flash)
Showcase #4 (first appearance of Barry Allen, The Flash)
The Flash #105 (first appearance of Mirror Master)
The Flash #106 (first appearance of Gorilla Grood)
The Flash #110 (first appearance of Kid Flash)
The Flash #113 (first appearance of The Trickster)
The Flash #117 (first appearance of Captain Boomerang)
The Flash #125 (first appearance of The Cosmic Treadmill)
The Flash #140 (first appearance of Heat Wave)
The Flash #155 (first appearance of The Rogues)
The Flash #1 (1987 – first appearance of Wally West as The Flash)
The Flash #92 (1987 – first appearance of Impulse)
The Fall of Barry Allen:
The Flash: Trial of The Flash (series #340-350) – Cary Bates
Crisis on Infinite Earths #1-12 – Wolfman/Perez
Wally West's Run:
The Return of Barry Allen (#74-70) – Mark Waid [Also, I assume that's a typo and they meant #74-79]
Terminal Velocity (#0, 95-100) – Mark Waid
Emergency Stop (#130-135) – Grant Morrison/Mark Millar
Wonderland (#164-169) – Geoff Johns
Blood Will Run (#170-176) – "
Rogues (#177-182) – "
Run Riot and Blitz (#192-200) – "
The Return of Barry Allen:
Flash: Rebirth #1-6
Blackest Night: Flash #1-3
Dastardly Death of the Rogues (#1-7)
Reverse Flash Spotlight (#8)
Prelude to Flashpoint (#9-12)
Flashpoint – Everything will Change:
The list doesn't include the eight pre-Rebirth issues that are already up (Flash vol.1 #209,211,212,215 and Flash vol.2 #15-18), or Impulse.
The 101 issues do include the entire Rebirth era, a number of classic Silver Age Barry Allen issues, the Trial of the Flash (though not the build-up, which you'll have to get in the Showcase Presents…TPB for now), two major Wally West stories by Mark Waid, one by Grant Morrison & Mark Millar, and almost half of Geoff Johns' Wally West run (with the curious omission of Crossfire)
Share