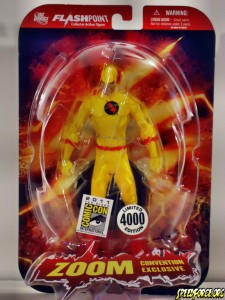 For those of you who have been waiting for pictures of the San Diego Comic Con exclusive Professor Zoom, you need not wait any longer. Our very own friendly neighborhood webmaster and Flash historian, Kelson Vibber attended SDCC 2011 and managed to snag an exclusive DC Direct/Graphitti Designs Flashpoint Professor Zoom action figure. Let's take a closer look: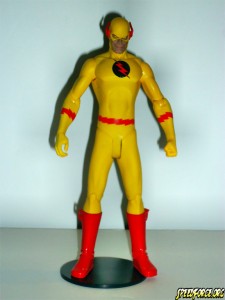 Eobard Thawne aka Professor Zoom is the chief rival of Barry Allen, The Flash and the central figure behind 2009's Flash: Rebirth and DC's latest event, Flashpoint. Thawne was reintroduced to comic readers in Flash: Rebirth as an even more sadistic opposite of The Flash that managed to not only construct and tap into his own negative Speed Force but as a result is also able to alter the past in any way he see's fit. His machinations eventually lead to the event Flashpoint where Thawne has made the main DC Universe nearly unrecognizable.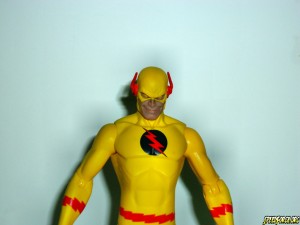 It has been reported that Flashpoint artist, Andy Kubert was heavily involved in the art direction and design of these figures, but the final result is the handiwork of seasoned sculptor, Karen Palinko. Karen joined DC Direct exclusively in 2005 and since then has been involved in numerous projects based on the work of superstar artists such as Alex Ross and Andy's brother, Adam. The partnership of Andy and Karen has created one of the better Flash-type body sculpts released by DC Direct in recent years. In fact the body sculpt looks a lot better than I initially thought it would judging from the pictures. A good looking figure in pictures but a great looking figure in person. Especially when it comes to the head sculpt; Professor Zoom's sadistic grin is captured here perfectly. I found the yellow eyes to be a bit off putting which is a great thing! Zoom looks genuinely creepy. I can't wait to match this guy up with Flashpoint Flash which is due to ship next week after some delays.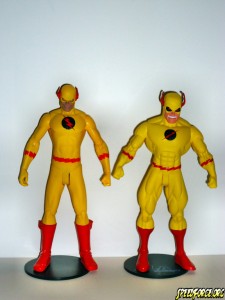 Professor Zoom had been realized once before in his traditional uniform as a figure based on the art of Ed McGuiness, and sculpted by former DC Direct sculptor, Tim Bruckner. The figure was released in the second wave of Identity Crisis Classics and sports a look that is Eobard Thawne's classic look with a few details borrowed from Hunter Zolomon's variation of the suit. The figure looked solid but I've made it known on many occasion that I'm not a fan of the overly bulky art style for my speedsters and this one is definitely a representation of that. This new version of Zoom is without a doubt my favorite version thus far, although that could all change when Mattel releases Wave 20 of DC Universe Classics with their own version of Professor Zoom.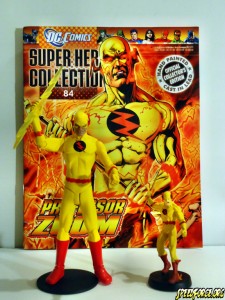 Here we have DC Direct Professor Zoom alongside Eaglemoss' DC Comics Superhero Collection #84 Professor Zoom. The lightning accessory in DC Direct Zoom's hand is actually from a Justice League Unlimited Flash action figure. It's a shame that DC Direct didn't include his lightning rod accessory but since it hasn't been seen since Flash:Rebirth I can understand it's absence. The aforementioned DC Universe Classics Professor Zoom will however come with the lightning rod, which is a nice touch, since speedsters traditionally come with nothing at all. DC Direct Professor Zoom did come with a black stand but it lacks any unique Flashpoint characteristics or anything to set it apart. It is just a basic circular black stand.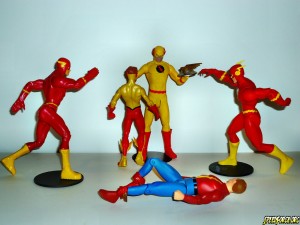 While putting together this action pic it became extremely apparent just how messed up DC Direct's scaling is. I couldn't use my favorite versions of Wally and Barry because they were much shorter than Professor Zoom. Of course it didn't matter as much with Jay and Bart because Jay is out cold on the ground and Bart is a teenager but I had to go with two versions of Wally and Barry that I'm not too keen on; Justice League of America Series 3 Wally West and Identity Crisis Classics Series 1 Barry Allen. Yes, despite the lack of boot wings and Barry's old straight across belt this figure is supposed to be Barry Allen. I definitely can't wait until my Flashpoint Barry arrives. I didn't realize how much we needed a new Barry (not a redeco of a Wally figure) until I did this picture. Unfortunately with the recent news it looks like we will never be getting a new version of Wally West. At least not in his new costume and as The Flash.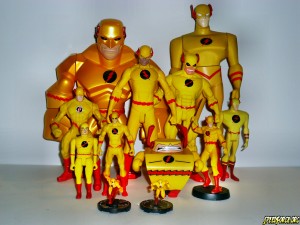 Finally a group picture of all of the Zooms in traditional garb (I left out the Black Flash Zoom). Soon we will have a DC Universe Classics version to add to the collection as well but after that I have to wonder when we will have another opportunity to get a Zoom. With the upcoming reboot and depending on what happens to Professor Zoom after Flashpoint I have to wonder when will we even see him again in the comics after September. Judging by the amount of attention and focus Thawne has gotten in the past couple of years I have to believe that they won't take too long before reintroducing the antithesis of The Flash but on that same token a little breather would be good for the character.
Was everyone able to get a Professor Zoom? Was it a relatively easy process or did it involve a lot of alternative sources, time and money? Let us know below.
***UPDATE***
Graphittidesigns.com now has Professor Zoom for sale online for 20 dollars. Hurry quick before supplies are exhausted. You can find the figure HERE. Thanks to Wayne Lippa for the tip!
Thanks for reading.
Share