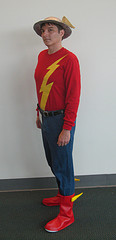 With Halloween approaching fast, now* seems like a good time to highlight a pair of old posts on how to make a Jay Garrick costume!
My wife and I (OK, it was mostly her) made this for Comic-Con International 2009, and it worked out really well. Unfortunately the gold paint on the helmet wings has tarnished since then, and the boot covers have detached themselves from the shoes, so it needs some touch-up if I plan to wear it again. Maybe next year.
*Yeah, I know last week or even earlier in October would have been a better time, but I only came up with this "Wayback Wednesday" idea acouple of days ago.
Share