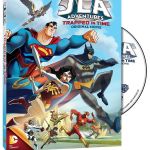 I had the opportunity to watch the JLA Adventures: Trapped in Time animated film the other night. It's a straight-to-video release directed by Giancarlo Volpe (best known in DC fandom for Green Lantern: the Animated Series), and is aimed at a younger audience than such films as The Flashpoint Paradox. But this isn't necessarily a bad thing, considering the extreme violence in some of DC's major animated releases.
Overall, I rather enjoyed Trapped in Time, which was surprisingly fun. There were some plot points glossed over and a bit of kid-oriented humour which didn't appeal to me, but I'm not the primary audience. And frankly it's a good thing to produce series (whether animated programs or comic books) that are more suited to children — in the era of a shrinking industry, comics could use some new fans.
Slight spoilers after the cut.