Jesse sent in this photo of an amazing piece of Flash artwork he recently bought: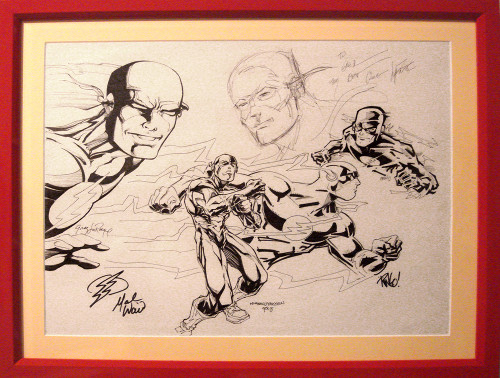 Here's how he describes it:
It's a single board of paper with drawings of the Flash from some of his most notable artists. You've got the two main Flash artists from the '90s: Greg LaRocque (my favorite Flash artist) drew the large picture of Wally on the left, and Mike Wieringo drew one, too! There are also drawings by Pop Mhan and Craig Rousseau. To top it off, Carmine Infantino did the sketch at the top. (I like to think that the 4 drawings are of Wally, with the spirit of Barry looking over, since it's in a lighter ink.) Oh, and Mark Waid signed the bottom as well. I don't own a lot of comic art, but even though this was expensive, I jumped at the chance to get it.
Wow!
It really makes me wonder what the story is behind the fan who originally went around collecting these sketches.
Update: Check out the comments below, where artist Greg LaRocque reveals the secret origin of the sketch!