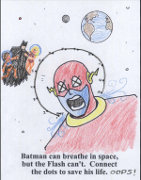 Comics Alliance has a couple of Flashy items: First, a page from the Shortpacked! coloring book: Batman Can Breathe In Space, But Not The Flash.
Second: they look back at a pair of Baby Ruth commercials from the 1990s, featuring Hawkman and an obvious Flash stand-in called the Blur. They have a video clip of the Blur commercial. Fun fact: The Blur was played by Tim Thomerson, who played Barry Allen's brother Jay in the pilot episode of the 1990 Flash TV show.

Speaking of the Flash TV series, it makes Comic Book Movie's list of Top Ten Most Accurate Live Action Superhero Costumes
The Secret of Wednesday's Haul contrasts Ethan Van Sciver and Carmine Infantino in their approaches to conveying speed.
noscans_daily has a Flash Appreciation Post focusing on the character from the animated Justice League and Justice League Unlimited TV series.
A Trout in the Milk reviews Wednesday Comics and asks the question: "What have we learned?"
InTylerWeTrust82 casts Superman and the Flash, with some interesting choices for the heroes, their supporting casts, and selected villains.
What Were They Thinking? has an example of Golden Age Flashdickery. Jay Garrick was a bit of a prankster in those days…