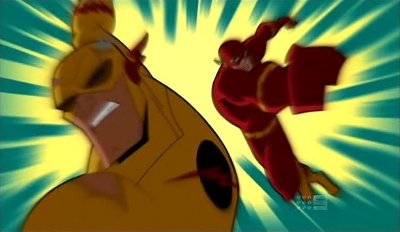 After a long wait, Requiem for a Scarlet Speedster, the Flash-focused episode of Batman: The Brave and the Bold, airs tonight on Cartoon Network at 7:00pm. (Or, depending on your time zone, already aired.)
It's been online through sketchy channels ever since it played in Australia in May, and legitimately on Amazon Video on Demand since early August. (It was also available on iTunes briefly, but was pulled, possibly to hold it until the US broadcast.)
So, what's in it? Three Flashes vs. Professor Zoom. Super-speed hijinks. Time travel. References to everything from Crisis on Infinite Earths to the "Dark Tomorrow" arc in Impulse. Cameos by the Rogues. A race around the world. A story about teamwork and no-ally-left-behind….
And great voice casting!
Thanks to Darren for the screenshot, and JC Norris for letting me know that the episode is being shown tonight.