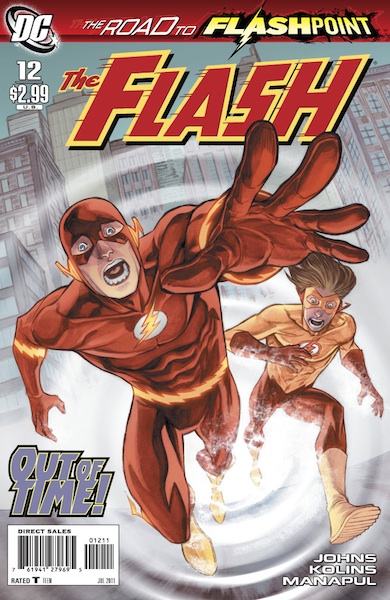 DC has posted a one-page preview (yes, just one page) of this week's The Flash #12, the final issue of the current series and of "The Road to Flashpoint." They also confirm that Scott Kolins is the second artist joining Francis Manapul (not that there was much doubt), and released an entirely new Francis Manapul cover for the book. The variant cover is the Francis Portela cover released two weeks ago.
Barry Allen is having a tough time balancing his life. Not only is he faced with his job as a CSI, his family, and being a super hero, but he's struggling with a past that still haunts him.

In the conclusion of THE FLASH (on sale tomorrow), written by superstar writer Geoff Johns and drawn by the amazing artists Scott Kolins and Francis Manapul, emotions are running high and Barry needs to make a change…fast.

THE ROAD TO FLASHPOINT storyline ends here and then everything you know will change in a Flash.