UPDATE: The show is no longer available at wb.com, but is now on CW Seed.
WB.com has episodes of the 1990-91 Flash TV series on it's website to watch for free!
The Flash TV series is a favorite of mine from back when I was just a little guy. My dad was a huge fan of sci-fi tv series, and we used to flip back and forth from The Flash to the Simpsons way back in the day. A few years later my sister would let me rent out the old Flash series from Erol's, as they carried two VHS of the series, The Flash and The Flash II: Revenge of The Trickster. I found both to be highly entertaining and watched them numerous times with captive eyes. I believe a third one was released later on but I never got a chance to watch it.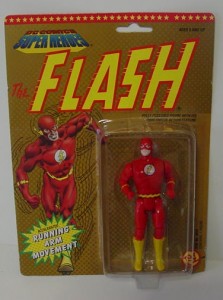 At this point in my collection I had only one Flash action figure with which I could act out his adventures with. It was made by Toy Biz and had an action feature that made his arms move when you wound the mechanism on it's back. I believe these were the immediate successors of the Super Powers Collection Action figures and even had a knock-off quality when compared to them. I had a slew of X-Men action figures so they pulled double-duty as villains. Fun times.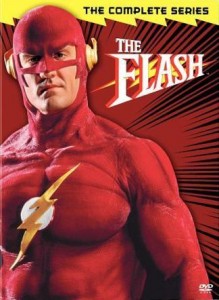 When they finally released the The Flash on DVD back in January of 2006, I was there at Best Buy first thing in the morning to pick it up. I was not disappointed. Well except for the mixed up episodes and the reports of some discs not working correctly. But the show had high production values, a cool suit, a solid cast, and cameos from some future Hollywood mainstays (Angela Bassett and Richard Belzer). Like many first seasons of series it had it's ups and downs. Many of which are showcased at Crimsonlightning.com, which ran a regular feature reviewing each episode of the show. Although I have to disagree with their review of Sins of The Father, personally that's one of my favorites. I love the dice scene and the quick change costume scene towards the end. Pure Awesome.
Despite it's low points the show was the first time that we really had a serious portrayal of a mainstream comics character in live action on TV and it was decently faithful.
I would love to see a live action Flash series (or better yet movie) in this day and age, but we will have to settle for this show in the meantime. We Flash fans have been doing a lot of settling though lately. I can only hope that with DC putting the spotlight back on The Flash in the DC Universe, we will see The Flash take the spotlight in other media as well.
If you missed it up top you can watch free episodes of The Flash here. Feel free to come back and leave some thoughts for us on the series and any memories you may have of it.
Credit: Dustin Fletcher for the link.
Also Speedforce.org and Arrobasilver.com's Design and Win Your Own Flash Ring Contest is in full swing! So feel free to check out the page and send your entry in today! There is little over a month remaining in the contest and we have some great entries so far. Keep 'em coming!