Some Friday linkblogging:
Former Impulse writer Todd Dezago is working on a Casper the Friendly Ghost miniseries. Update: Newsarama has an interview.
Again with the Comics considers other times that DC's heroes have had to face undead former allies.
Being Carter Hall posts a sketch of Hawkman and the Golden Age Flash by classic artist Sheldon Moldoff.
Silver Age Comics looks back at the Great Price Increase of 1961.
Grumpy Old Fan considers the essential difference between Marvel and DC and how it impacts continuity, long-form storytelling and relentless pursuit of imperfection.
Comic Book Heroes profiles the Flash.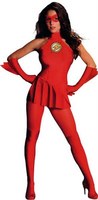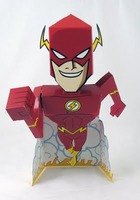 Update: The Nerdy Bird has located a sexy Flash costume (and a scary Batman one). Update 2: The first woman in the SDCC Flash Sighting post appears to be wearing this costume.
Update: Custom Paper Toys' paper JLA figures will be available at Arby's (via Robot 6)
Share