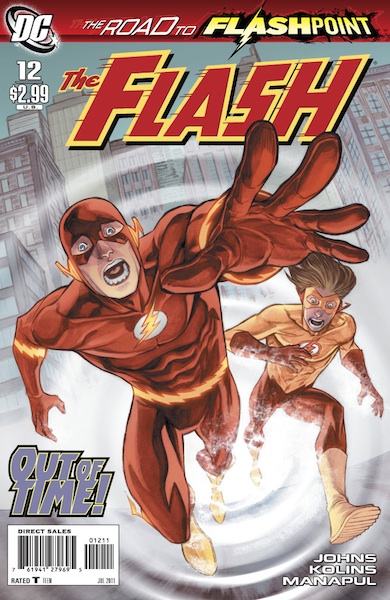 Well, here it is, the supposedly final issue of The Flash. So how does it read? And how does Geoff Johns & Francis Manapul's brief 12-issue run hold together?
This one's better than the previous issue, with a super-speed battle, revelations about Professor Zoom, the Speed Force, Flashpoint and Kid Flash, and even the background between Barry Allen and Patty Spivot. Scott Kolins' art looks better as well — whether he had more time, or whether the super-heroics is just better suited for his current style, I couldn't say — and Francis Manapul's cover (revealed just yesterday) is great.
Still, the whole "Road to Flashpoint" arc feels like something's missing. The biggest problem, I think, is that everything from Flash: Rebirth to this point was supposed to be a steady build toward Flashpoint, but the combination of slowly-paced long storylines and publishing delays meant that instead of progressing from A to B to C to D to E to Flashpoint, we instead spent a lot of time on A and then a lot of time on E without actually following the steps to get there.
I can't believe I'm saying this, but I think maybe making a clean break at this point and starting fresh after Flashpoint is exactly what the book needs.
A bit about the art:
I mentioned that I liked Kolins' art better in this issue than last. One sequence that stood out was the way he portrayed Zoom and the negative speed force. It looked more like flowing energy streams within Zoom's body than the usual lightning leaking around it, which was a nice change, and a good way of showing that Thawne was using the powers differently. Still, I miss the background details that Francis Manapul works into his art, like the fire extinguisher behind someone who's still carrying a flame.
Further discussion will require SPOILERS!
.
.
.
.
So: Thawne's nonsensical plan stands revealed: He was just trying out his powers. Um…OK. He also provides an interesting interpretation of the speed force: that it effectively is time. This takes me back to an essay I read during the late 1990s suggesting that the Flash's powers weren't really super-speed, but slowing down time…essentially what Hunter Zolomon's powers were later described as in "Blitz." Of course, those powers were described as being distinct from the Speed Force. The Flashes may need to revisit that theory.
It seemed likely from last issue that Hot Pursuit was wrong about Kid Flash being the cause of the Flashpoint, though I think they missed an opportunity for his actions against Bart to factor into Thawne's plans. Speaking of Hot Pursuit, I was surprised to see him die (mainly because we know he's involved in Flashpoint: Kid Flash Lost — though I can think of three ways off the top of my head to make it work), though it was obvious his fate was sealed the moment Thawne saw his face. That two-page sequence in Flash #8, in which Professor Zoom is so intensely frustrated that he can't kill Barry Allen without interfering in his own past, made it clear that he'd leap at the opportunity to kill him without consequences. (I wonder if he'll pull a Gog and start tracking down the remaining 50 Barry Allens around the multiverse?)
I'm glad that they didn't go to the effort to drag Patty Spivot back from limbo only to kill her. That would have been a waste. I find it interesting that in the new history, she was actually a scientist at the Central City crime lab before Barry Allen, while originally she started shortly before Iris' death. Setting it up so that she wanted a relationship with Barry way back when, and still holds a torch even though she knows it can't go anywhere, sets up an interesting dynamic without tarnishing Barry and Iris' past…though as a long-time reader, I have to wonder: why graft this story onto Patty, when there are other women (Daphne Dean, Barry's childhood sweetheart, or more importantly Fiona Webb, whom Barry almost married) who already have this sort of history with him?
All that said…it seems kind of pointless to introduce new character dramas when the DCU's entire history is wiped out at the end of the issue. Yeah, the whole idea of Flashpoint, like Wonder Woman: Odyssey, is to figure out how to change history back, but still…
The main problem is with the emotional drama at the core of the story: Barry isn't paying attention to his family. At least, that's what we're told, since they haven't really had a chance to show it. I know I described the intervention last issue as "payoff" for the little things that have been wrong about Barry since his return, but the more I think of it, those have only been in "Rebirth" and "The Road to Flashpoint." There was no time in Blackest Night, and "Dastardly Death of the Rogues" led us to believe he'd worked through all the drama. This is where more, tighter stories would have worked better. We could have seen Barry repeatedly blow off family obligations until it built to the point that the intervention made sense, rather than having to take it on Bart's and Iris' word that it's a problem.
When Barry Allen first appeared in the Silver Age, twelve issues would have given us 24 stories about the Flash…not two and a couple of stories about his enemies. I'm not saying we should go that far, but imagine if we'd had four three-issue stories between Blackest Night and Flashpoint. That would have gone a lot further to really establish Barry Allen as the Flash, tell some stories, and build up to the big event. As it is, it feels like the series has simply been running in place until Flashpoint was ready to start.
The Flash #12
Story by Geoff Johns and Scott Kolins
Art by Francis Manapul and Scott Kolins
Share