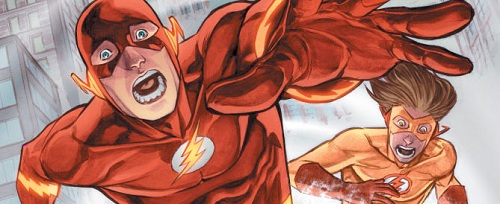 DC keeps reminding us that this week's The Flash #12 is the final issue of the series. But we all know that the series is coming back, one way or another. The Flash is one of DC's foundational* series that only ever gets canceled to pave the way for a relaunch.
So we know The Flash will be back in some form after Flashpoint. But how?
Main Series
Most likely it'll be called The Flash, and as long as Dan Didio and Geoff Johns are in charge it's a safe bet that it'll star Barry Allen. The question is, will it be…
Flash vol.4 #1 (a straight relaunch)
Flash vol.3 #13 (picking up where they left off)
Flash with some sort of combined numbering.
For that last option, I added the series up a while back and came up with ways they could launch at #625 or #630. There's also the Flash #351 approach some people have suggested, which is odd, because it includes both the Golden and Silver Age numbers but skips over the last 25 years of Flash comics.
If Flashpoint is a big turning point for the Flash, they might go for a new title, maybe All-Flash vol.2 #1 (Gotta keep those titles in trademark!)
Who will write it? Geoff Johns could. He's said he can do 3 monthly books, and with Brightest Day over, he's committed to Green Lantern and Aquaman. But he's also busy with his job as Chief Creative Officer. Could it be time for someone else?
How about art? After the way things went with this run, it probably won't be Francis Manapul on the next ongoing. Scott Kolins seems to found a niche as the go-to-guy for "quick draw" Flash books, so he might return full-time. Or we might see someone entirely new.
When will it start? Most likely it'll launch right after Flashpoint (or 3 months later to keep spoilers out of solicitations), but DC might run a miniseries first.
Spinoffs
Secret Origin. Geoff Johns has said on several occasions that he wants to do Flash: Secret Origin, and at last year's Baltimore Comic Con it was suggested that it would follow the second story arc on The Flash. (At the time, my guess was that Secret Origin would run through the main title while Flashpoint ran in its own miniseries, though that obviously isn't happening.) I wouldn't be surprised at all if he and Francis Manapul started working on this behind the scenes during Flashpoint, with Flash: Secret Origin launched as a miniseries after Flashpoint concludes. If that happens, I'd guess that DC will wait until Secret Origin is finished before relaunching The Flash again.
Kid Flash. At SDCC 2009, Geoff Johns announced plans for a Kid Flash series by Sterling Gates, launching in 2010 alongside the Flash relaunch. This was eventually scrapped, though Gates is writing the Flashpoint: Kid Flash Lost miniseries. If it sells well, I would not at all be surprised to see a Kid Flash ongoing spin out of the event.
Speed Force. At SDCC 2010, Geoff Johns announced plans for a second Flash series, Speed Force, featuring Wally West and Bart Allen, launching in 2011. Most likely this would be a rotating cast like JSA Classified. It's only occasionally been mentioned since then, and unlike Kid Flash, it doesn't have as obvious a hook from Flashpoint…that we know of.
Chances are that we'll see Speed Force or Kid Flash spin out of Flashpoint, but not both.
Flash: Secret Origin sounds like a good bet, though, whether before the new ongoing series launches or side by side with it.
*To use Grumpy Old Fan's term for those books that are essentially cancellation-proof, since they've been in publication almost continuously since 1960 or longer.
Share