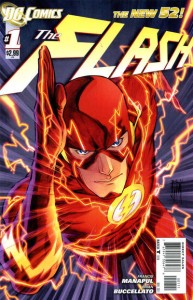 Diamond has released its September sales charts, and The Flash #1 takes the #4 spot on the chart. DC dominated the charts with 9 of the top 10 comics, and Flash was beat only by Batman #1, Action Comics #1, and Green Lantern #1.
From what DC has said before, we know that The Flash sold somewhere between 126K and 200K copies (more links in that article to older sales figures). And if three of DC's books sold over 200K, and Flash is #4, it's probably at the high end of that range.
Detailed sales estimates will no doubt be available soon at Comic Chronicles & ICv2.
Update: I had an interesting thought. Is this the first time sales have gone up with the next issue after Geoff Johns has left a series? Obviously the circumstances are unusual, but still…