The linkblogging catchup continues!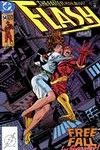 Comics Should Be Good features Flash #54: "Nobody Dies" (William Messner-Loebs and Greg LaRocque) in their Year of Cool Comics. It's one of my favorite one-issue stories from Wally West's run, and not surprisingly it made the reader-selected list of top 10 Wally West stories a few weeks later.

A bit off topic, CSBG also reviews Mysterius the Unfathomable. It was a fun fantasy/horror/comedy miniseries last year, and is now available as a trade paperback.
Multiversity Comics recommends the new Flash series. Among other reasons: "he has a secret identity which actually gets used, instead of being forgotten for more exciting superhero stories." And of course, "Flash has some of the best and most fleshed out rogues in the business."
Update: One more! Several Flash storylines appear in CSBG's Greatest Mark Waid Stories Ever Told list: Dead Heat, Terminal Velocity and The Return of Barry Allen.