A while back (OK, a year ago — I'm trying to get my email inbox under control again), David Fulton sent in a link to this image from the 52 back-up feature, History of the DCU.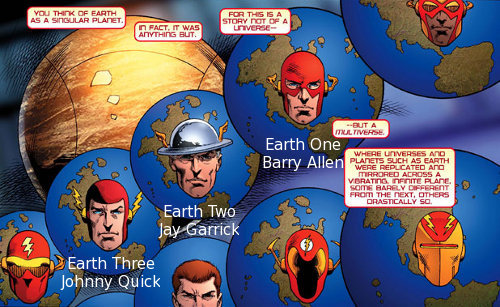 The panel appears in part three of the story, which summarizes the events of Crisis on Infinite Earths and explains the original Multiverse. I've labeled the Flashes I recognize, but I believe the rest are new creations. The mask in the upper right with the goggles reminds me a little of the Crime Society Johnny Quick (who would not make his first appearance until the end of 52). The full face mask directly below Barry Allen reminds me a bit of the suit in the JLI Elseworlds Annual.
So why create new Flashes just for one-time cameos instead of using existing obscure characters? There actually weren't that many alternate realities explored before Crisis — at least, not realities that were similar to the mainstream Earth-1/Earth-2 dynamic with DC's major heroes. Once you got as far as Earth-4, they were dealing with the Charlton heroes, or the Quality heroes, or the Fawcett heroes, worlds that didn't have a Flash.
They could have pulled in some examples from Grant Morrison's "Second Crisis" story in Animal Man, or from some of the settings retroactively added to the pre-Crisis multiverse like Kingdom Come or the Tangent Comics Flash, but they may have wanted to stick with "real" characters who were actually around at the time of COIE. That leaves the Zoo Crew's Fastback or the Justa Lotta Animals' Crash, but they were going for a serious tone with this story. A talking turtle with super-speed might have spoiled the mood!