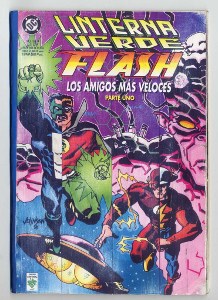 Over the weekend, Profiles in History auctioned off props from LOST, including two copies of a comic book that appeared in the TV show's first season. That comic book was the Spanish-language edition of the first half of Green Lantern/Flash: Faster Friends (Part 1) from 1997.
In the show, Hugo "Hurley" Reyes brings the comic book onto the plane in Sydney. After the crash, Walt Lloyd finds it on the beach and carries it around, clinging to it as a symbol of the normal life he's left behind.
Also: polar bear. Or rather, OMGWTFPOLARBEAR.
Newsarama reports that the "crisp" copy used for the flashback scenes sold for $3,900, while the battered copy sold for $1,680. Profiles in History estimated the value of each book at $200–$300. Copies that haven't appeared on television seem to sell for around $5–$10, judging by a quick eBay search for the English version.
Coincidentally, last week DC announced that they would be reprinting the story in November as part of their DC Comics Presents series.
Tip of the hat to @LegionOmnicom for the news!