Our celebration of Speed Force's fourth anniversary (last Friday) continues with a look back the Top 4s of the last four years.
Don't forget to share your favorite Flash memory for our contest! Only a few hours left!
Top 4 Most-Commented Articles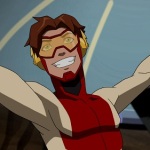 4. Young Justice: Bloodlines (June 2012, 61 responses). The recent episode featuring four generations of Flashes. People started out commenting on the big reveal of Impulse, then moved into discussing the episode when it aired. The response to this post, and the images posted on Facebook, Tumblr, and yes, even Google+, convinced me of two things: 1. People like photos more than text. 2. Young Justice has more fans than the Flash comic book. Which isn't surprising, since Young Justice probably has more viewers than the most popular comic book has readers.
(I wasn't sure how to count posts with the new comment system, since it includes Likes and Retweets along with local comments, Facebook comments and Twitter replies. Filtering out the Likes and retweets knocks it down to 50, just behind Wally West's New Costume at 51.)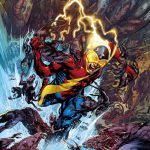 3. Jay Garrick Redesign Revealed (April 2012, 64 comments). The Earth 2 redesign has been…polarizing? This was a simple repost of the cover from Earth 2 #2 when DC released it alongside a James Robinson interview.
2. Why I Don't Like Barry Allen Generating the Speed Force (April 2011, 73 comments). An opinion piece about a retcon to the way the speed force works. Judging by the heated responses from some people, I'm not sure everyone read past the first six words in the title.