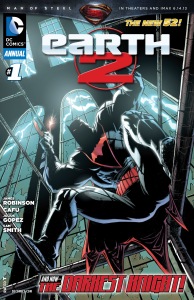 The heroes of Earth 2 are growing in number, with appearances by Captain Steel, Mister Miracle and Barda…and a mysterious new Batman!  This Annual does a great job of setting the table for stories to come…if only we could get a little more from James Robinson on this excellent title.
Okay, let's get this out of the way first…here is the transcript of everything Jay Garrick did in this issue.
…
…
…
…
…
Don't worry, he wasn't the only person who didn't show up in the Annual, as Doctor Fate was nowhere to be seen and Hawkgirl appeared only briefly.  Even so, this was an excellent issue and presents events that will soon affect the life of our favorite Earth 2 speedster, so let's move forward with the review.
SOME SPOILERS AHEAD! Continue reading →