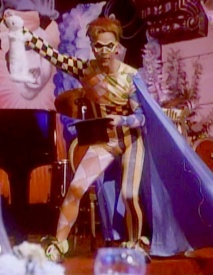 Mark Hamill, known worldwide as Luke Skywalker but to Flash fans as the live-action Trickster from the 1990s Flash TV show, will be back to reprise the role in the 17th episode of the new Flash TV series, as reported by HitFix.
Hamill joins John Wesley Shipp, the original series' Barry Allen, who plays Barry's father on the new show, and Amanda Pays, who returns as Dr. Tina McGee. Like Pays, he'll be playing a different version of the character this time around:
In this new iteration, The Trickster is an anarchist terrorist con man serving a life sentence in Iron Heights who helps Barry (Grant Gustin) and Det. West (Jesse L. Martin) to foil the city-wide attacks of a wannabe Trickster eagerly following in the original's deadly footsteps. The episode will reunite him with John Wesley Shipp who went up against him as the original 'Flash' on the CBS version.
It sounds like they're bringing in both James Jesse and Axel Walker, which I think is a great move. The New 52 Trickster lost something when they tried to make Axel the original rather than someone who stole the identity and gadgets. I like that they're incorporating the con man aspect as well, since that's one of my favorites versions of the character.
So what do you think of bringing back Mark Hamill as the Trickster? Great idea, or best idea?