It's going to be a long time (if ever) before I track down the entire Golden Age run of the Flash, but I've finally tracked down the last item on a list I've been trying to complete for four years.
Getting Started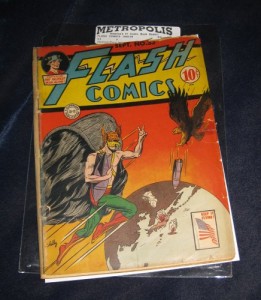 For the longest time I just assumed Golden Age comics would cost too much to collect. Then in late 2005 I picked a maximum, bid on several auctions on eBay (not expecting to win), and actually won two of them. They weren't in good condition, but one of them was complete, and all I wanted to do was be able to read the stories.
So I took the appearance lists for those Golden Age villains who had survived into the Silver Age and beyond — villains who had returned like the Fiddler and the Thinker, or who had been re-imagined like Star Sapphire, the Turtle or the Thorn — removed anything that I had as a reprint, and made a list of books to track down.
Discovery
The first year I had pretty good success, and bought a bunch of other Golden Age books. I read them, indexed character appearances, and discovered forgotten recurring characters like the Worry Wart, Deuces Wilde, the Eel and the Keystone City Liars Club. After a while, though, the supply of (relatively) cheap, reader's-grade copies on eBay dried up. Cons didn't help because, as near as I can tell, most Golden Age collectors do it for the history. They're looking for the books that are in the best condition possible, so that's what dealers bring with them.
Pursuing the Shade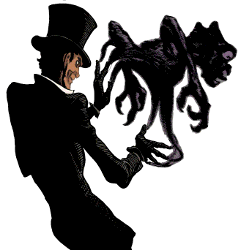 The one book I most wanted from the beginning proved to be the hardest to find: Flash Comics #33, the first appearance of the Shade. After four years, I finally found it. Last month a falling-apart copy showed up on eBay starting at $50, in a lot with two other books in much better condition. I figured it would quickly move beyond my price range, and didn't even bother bidding — but I did put a watch on it. The day it closed, eBay sent me a reminder. Amazingly, it was only up to $55, so I put in a bid. Even more amazingly, it only went up to $56. To my astonishment, when I checked my email the next morning, there hadn't been any more bids. I'd won!
It's a strange feeling — a mix of astonishment and exhilaration — to finally track down something I'd sought for so long. I wrote up most of this post that day, but held off publishing it, just in case something went wrong.
It took a while, but the book arrived today. Continue reading →