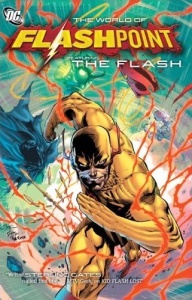 The Collected Editions blog has been reviewing the Flashpoint trades over the past week. The tie-ins were collected in five trade paperbacks, grouped around one of DC's big five characters, titled The World of Flashpoint Featuring…
The miniseries less directly related to the major characters were spread around the other books, some thematically and some apparently at random, but the Flash collection is actually filled with stories focusing on Flash characters: Citizen Cold, Kid Flash Lost, Reverse-Flash, Legion of Doom (starring Heat Wave) and Grodd of War.
The site has also put together a Flashpoint trade reading order.