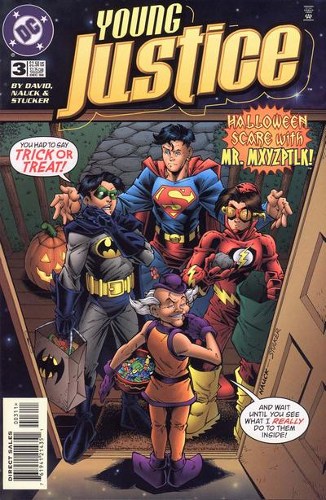 Update: A couple of Halloween-themed posts over at my other blog:

Saturday, May 2 is Free Comic Book Day, and comic stores around the world (okay, mostly in the US) are holding events with guests from the comics industry.  I've put together a list of all the Flash and Impulse-related appearances I could find:
United States
Arizona
Geoff Johns and Ethan Van Sciver sign at Atomic Comics in Mesa
California
Mark Waid and Marc Guggenheim sign at Collector's Paradise in Winnetka from noon-3pm
Mark Guggenheim will also appear at Meltdown Comics in Los Angeles from 4-7pm.
Todd Nauck (Young Justice) signs at 4 Color Fantasies in Rancho Cucamonga
Florida
Paul Pelletier signs at Heroes Haven in Tampa
Maryland
Greg LaRocque signs at Super Villains Comic Shop in Baltimore
New York
Canada
Ken Lashley (Flash: The Fastest Man Alive) signs at Comic Connection in Hamilton, Ontario
Notes
The FCBD website has a list of more creator signings on Saturday. I may have missed some Flash-related names.

On Friday afternoon at Comic-Con, I went over to Artists' Alley to see if I could commission a sketch of Impulse from Todd Nauck (Young Justice). He was talking with someone, and they kept talking for something like 5 minutes. When he walked away, it turned out that the guy he'd been talking to was Carlo Barberi — who drew Impulse during most of Todd Dezago's run!
I talked to Todd Nauck briefly, and asked for the sketch, but I had a panel to get to so I couldn't pick it up. I went back Saturday around 1:00 or so to pick it up. He was doing a sketch of Secret for someone else. He mentioned that when he started doing Young Justice, he was a huge Impulse fan, but got to really like the other characters over the course of his run on the book. By the end, Wonder Girl had become one of his favorites, because of all the character growth he got to portray.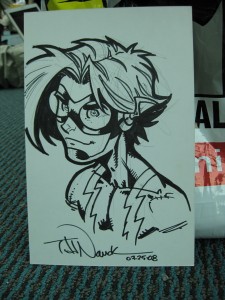 See also: Autograph/Sketch Tally: SDCC 2008