IGN has posted a 5-page preview of Blackest Night: The Flash #1, due in stores this Wednesday. Here's the final cover by Scott Kolins, complete with logo, next to Ethan Van Sciver's cover for Flash: Rebirth #1: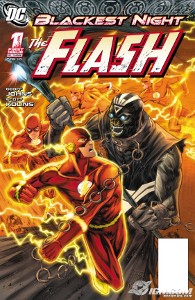 Interestingly, Francis Manapul's alternate cover turns out to be the one DC used in the solicitations for issue #3 — which means we have no idea what the real covers for #3 are going to look like!
A couple of things that come to mind reading this:
It's great to see Scott Kolins' art on the Flash again.
Nice touch to list the time-traveling Reverse-Flash on both the living and dead columns.
Am I misremembering, or is the new "about box" for Barry's origin (at the bottom of the splash page) more complicated than the one they used for Wally?
Head over to IGN to read the preview!