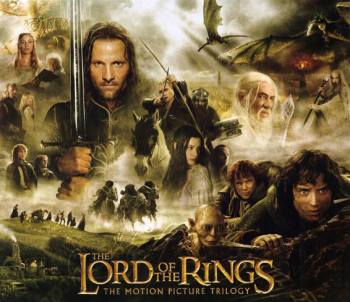 A local movie theater has been running special screenings of the extended-edition Lord of the Rings trilogy over the last few weeks (almost certainly in connection with this week's Blu-Ray release). I just watched Green Lantern, another movie in which a ring figures prominently, at the same theater. And of course we're knee-deep in Flashpoint. The stories collided in a mental three-car pile-up during an afternoon running errands, and I started thinking: What would The Lord of the Rings have been like as a modern "event" comic book like Final Crisis or Blackest Night?
The Hobbit would have been subtitled, "Countdown to Lord of the Rings," and continuity wouldn't have lined up quite right with the main series.*
The core story would have been six volumes, with the first three shipping on time, and increasing delays for volumes four, five and six.
We would have seen side stories and flashbacks in specials or miniseries such as "Lord of the Rings: War in the North," "Lord of the Rings: Arwen's Story," "Lord of the Rings: Faramir's War" and "Lord of the Rings: Balin's Last Stand."
The first issue of the main series would have been accompanied by plastic replicas of The One Ring. The first issue of each tie-in miniseries would have included one of the rings given to elves, dwarves, or men.
To fill the gaps in the schedule, they would have added additional character specials like "Lord of the Rings: The Adventures of Tom Bombadil" and "Lord of the Rings: Radagast the Brown."
The main series would have ended with destroying the ring, and a group of follow-up miniseries would have detailed "Lord of the Rings Aftermath: The Scouring of the Shire", "Lord of the Rings Aftermath: The Greening of Isengard" and "Lord of the Rings Aftermath: Quest for the Entwives"
"Bow and Axe," an adventure-comedy-buddy series starring Legolas and Gimli, would be the most successful of several ongoing spinoffs. "Settlers of Mordor," on the other hand, would be canceled after just a few issues.
And then there are all the alternate-universe stories that would show up several years down the line, set in a world in which they failed to destroy the ring.
So…what do you think would have changed?
*Actually, this one really did happen. In the original edition of The Hobbit, Gollum gives Bilbo the ring as the prize for winning the riddle contest. By the time Tolkein got to The Lord of the Rings, that completely contradicted the ring's effect on its bearers. He revised The Hobbit so that Bilbo finds the ring on his own, then wrote into LOTR that Bilbo had lied in the first edition to make himself look better.