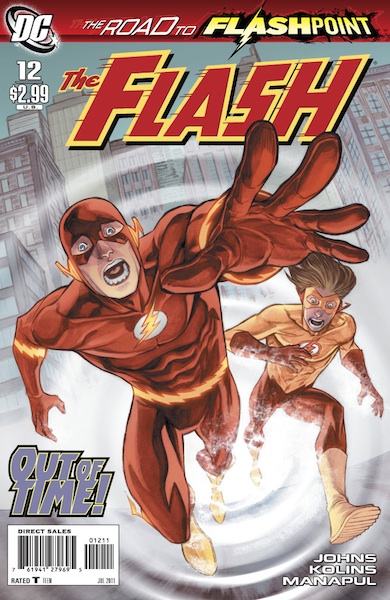 Well, here it is, the supposedly final issue of The Flash. So how does it read? And how does Geoff Johns & Francis Manapul's brief 12-issue run hold together?
This one's better than the previous issue, with a super-speed battle, revelations about Professor Zoom, the Speed Force, Flashpoint and Kid Flash, and even the background between Barry Allen and Patty Spivot. Scott Kolins' art looks better as well — whether he had more time, or whether the super-heroics is just better suited for his current style, I couldn't say — and Francis Manapul's cover (revealed just yesterday) is great.
Still, the whole "Road to Flashpoint" arc feels like something's missing. The biggest problem, I think, is that everything from Flash: Rebirth to this point was supposed to be a steady build toward Flashpoint, but the combination of slowly-paced long storylines and publishing delays meant that instead of progressing from A to B to C to D to E to Flashpoint, we instead spent a lot of time on A and then a lot of time on E without actually following the steps to get there.
I can't believe I'm saying this, but I think maybe making a clean break at this point and starting fresh after Flashpoint is exactly what the book needs.
A bit about the art:
I mentioned that I liked Kolins' art better in this issue than last. One sequence that stood out was the way he portrayed Zoom and the negative speed force. It looked more like flowing energy streams within Zoom's body than the usual lightning leaking around it, which was a nice change, and a good way of showing that Thawne was using the powers differently. Still, I miss the background details that Francis Manapul works into his art, like the fire extinguisher behind someone who's still carrying a flame.
Further discussion will require SPOILERS! Continue reading →