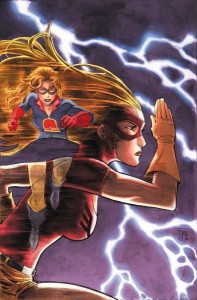 Jesse Quick first appeared in a 1992 revival of the Justice Society of America. It only lasted a year or so, but it introduced Jesse Chambers, a college student who inherited powers from her superhero parents: Johnny Quick, a speedster who used the spoken formula "3X2(9YZ)4A" to unlock his power, and the super-strong Liberty Belle.
Her parents had split up over super-heroics — her mother wanted nothing more to do with them, but her father wouldn't give it up — and Jesse found the idea fascinating enough to write a dissertation on the subject. It was inevitable that she'd be called into action alongside her father.
Jesse Quick got on well with Flash Wally West at first, but they had a falling out over his keeping secrets. As she became more active as a hero, they continued to be allies, but it would be hard to call them friends.
A workaholic, Jesse took over her father's business after his death.  She and her mother eventually reconciled, and she even took on the Liberty Belle identity for a while when she lost her speed. She met Rick Tyler (Hourman) through the new Justice Society of America, and they married.
Jesse has not yet appeared in the post-Flashpoint DC Universe, though she did appear as the Flash in the Ame-Comi Girls universe.
Johnny Quick and Liberty Belle
Johnny Quick was created in 1941 in response to the Flash's success. Jay Garrick was owned by All-American Comics at the time, published through DC, and DC wanted a speedster their owned outright.  Debuting in More Fun Comics, Johnny Chambers' gimmick was the spoken formula which unlocked his super-speed.
World War II heroine Liberty Belle debuted in 1942. She was an American athlete who escaped occupied France by swimming the English Channel and used her new fame to support the war effort and fight Nazi saboteurs on the home front.
Both characters vanished in the late 1940s, and neither was revamped when DC began rebooting their old characters in the 1950s and 1960s.  They eventually came back in the 1980s series All-Star Squadron, which followed the adventures of DC's WW2 heroes and established a romance between the two of them. These stories initially took place on Earth-Two, but when DC combined their multiverse into a single continuity in 1986, they were re-set in the new, combined history.
Side Note: The Crime Syndicate
DC kept the "Johnny Quick" name alive in the 1960s by using the name for the Earth-3 evil version of the Flash. The Crime Syndicate of America has featured a Johnny Quick in all of its incarnations since then, including the animated film Justice League: Crisis on Two Earths and the New 52/Forever Evil version.
Covers via the Grand Comics Database.