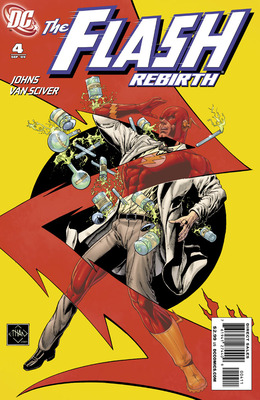 Well, I said I wanted this issue to knock my socks off, and Geoff Johns & Ethan Van Sciver certainly delivered! After three issues of setup, Flash: Rebirth #4 kicks the story into high gear. Eobard Thawne, the Reverse Flash, stands revealed as the villain behind Barry Allen's troubles, the mythology of the speed force expands, and everyone gets involved in a high-stakes battle for the legacy of the Flash.
The Professor is In
I've never been a huge fan of the Reverse Flash. Sure, there's a reason the evil counterpart is a standard villain type. For one thing, it's always interesting to see what a villain can do with the same powers but no scruples (as demonstrated admirably when Lex Luthor and the Flash have their minds switched in "The Great Brain Robbery" episode of Justice League Unlimited). For another, when the villain has the same powers as the hero, it cancels out the hero's usual advantages — but the side effects of their struggle are often doubled.
The thing is, Professor Zoom always struck me as an overdone, melodramatic villain, evil or the sake of being evil — the kind who would twirl his mustache while tying Iris to the railroad tracks. Maybe that was because he never really got updated with modern storytelling the way the Rogues did, except for a single story — appropriately enough, Mark Waid's "The Return of Barry Allen." By contrast, I found Hunter Zolomon a much more interesting character with unusual motivations, though one who should be used sparingly. So having Zoom II taken off the playing field in Rogues' Revenge and Zoom I brought back at the same time as his own arch-nemesis seemed, well, lazy.
This issue, however, presents a Zoom who is thoroughly menacing. Barry's internal monologue zeroes in on the key constant in Zoom's appearances: he's a predatory stalker. And now he's been reimagined as — like his opposite number — a scientist. A scientist with an obsession and no ethics committee, who has spent his life experimenting on the subject of his fixation.
Rush
There's so much going on in this issue that the first time through I didn't realize what a huge chunk of exposition is dropped at the beginning of the issue. For one thing, it's interspersed with a battle. For another, despite Thawne's academic affectations, it's much more straight-forward than the technobabble at the beginning of the last issue.
Also: a couple of items bring home the fact that this entire miniseries (or at least what we've seen so far) takes place in the space of one day. The first issue established a number of celebrations and parades that were going to happen later that day — and this issue, one of the battles crashes through that parade.
I don't think I can say much more without giving away plot points, so be warned: Spoilers after the cut.