The wait is finally over. The Blue Lantern Barry Allen Action Figure announced back in February (and originally scheduled for release early last month) is in stores tomorrow. I really dig the overall design of the Blue Lantern uniforms and I like them even more when mashed up with The Flash. I can't wait till this guy arrives!
BLACKEST NIGHT: SERIES 6: BLUE LANTERN FLASH Action Figure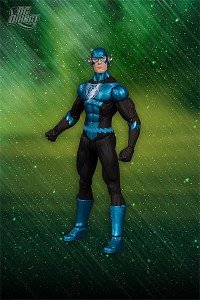 The hugely successful BLACKEST NIGHT action figure line continues with four awesome new characters!
Included in this sixth installment of the series are Hal Jordan, the personification of the Green Lantern Corps; Wonder Woman, who finds the power of love and joins the ranks of the Star Sapphires; Hawkgirl, who was one of the first heroes to lose her life to the dark power of the Black Lanterns; and The Flash, who couples the power of the blue ring with his trademark speed to carry the message of hope to all.
All four figures feature multiple points of articulation and include a display base. Character-appropriate accessories are also included.
4-color clamshell blister card packaging.
So who plans on picking this guy up?