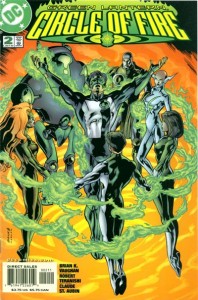 Green Lantern blog The Indigo Tribe has recruited a group of comics bloggers to review the chapters of Green Lantern: Circle of Fire, a fifth-week event from 2000 that featured established heroes teaming up with a group of all-new Green Lanterns to face the threat of Oblivion, a new villain who has some strange connection with Kyle Rayner's past.
I'll be reviewing Green Lantern/Adam Strange, in which the space-going hero teams up with Green Lightning, a speedster Green Lantern from the future who is a descendant of both Kyle Rayner and Wally West.
The other guest bloggers featured are Frank from The Idol-Head of Diabolu (Green Lantern/The Atom), Shag from Firestorm Fan (Green Lantern/Firestorm), and Michael from The Fortress of Baileytude (Green Lantern/Power Girl).
Read on with Green Lantern: Circle of Fire #1 at The Indigo Tribe!