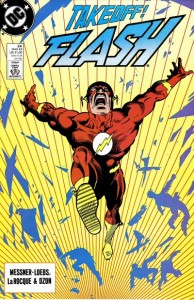 I hope today's release of Flash vol.2 #2-6 on ComiXology signals the beginning of a complete digital release of the Wally West Flash series. This brings the total to 63 issues scattered around the 249-issue series (including #0 and #1,000,000, both already available), mostly from the Waid and Johns runs, but there are still a lot of gaps…and most of the material is out of print.
The Mike Baron (#1-14) and William Messner-Loebs (#15-61) runs on The Flash have never been reprinted in trade paperback, and only the highlights of the extensive Mark Waid/Brian Augustyn run (#62-162, minus a year off for Morrison/Millar) have been collected. A lot of that is due to the changing market during the 1990s. When Waid started, collected editions were rare. Vertigo was seeing some success, but the idea that people would shell out for a whole series in graphic novel form hadn't yet sunk in. (These were the days when studios weren't sure there was a market for complete TV seasons on home video, either.) By the time Geoff Johns took over the title, DC was collecting full runs of a few high-profile series, but not all, or even most of their books.
Now, of course, everyone expects most comic books will be collected, and waiting for the trade is actually a workable strategy. But it's not often that DC Comics goes back to fill in the gaps in their library — at least, not in print.
Gold and Bronze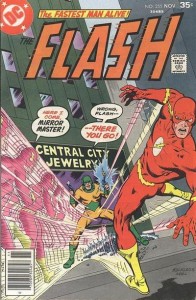 With any luck, digital releases will also be the way we'll finally get the Bronze Age and the Golden Age re-released. I've grumbled on a number of occasions that DC seems to keep reprinting the same early years of the Silver Age every time they come up with a new format, and never seem to get past the early/mid-1960s on Barry Allen's series. (Even the upcoming Flash Archives vol.6 brings that series up to…1964.)
I'd really like to see more Golden Age Flash Archives. DC has only gotten as far as issue #24 out of 104, and the first super-villain (The Shade, as it turns out) doesn't appear until #33…but these volumes seem to come out so rarely that I expect to die of old age before DC finishes collecting the series. In print, anyway. This is one of the reasons I went forward with my effort to hunt down the original comics, or at least as many of the key issues as I could find in my price range. Continue reading →